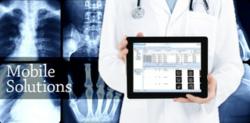 (PRWEB) August 29, 2012
A new, daytime teleradiology company targeting urgent care, IDTFs, mobile medical and physician offices is now serving clients in 10 states, is licensed in 20, and plans to expand with the growth of their customers. Teleradiology Specialists keeps overhead costs low and extends the savings to every customer while employing highly qualified radiologists who are available to read a wide variety of studies all day. In addition, by being able to deliver reports to secure patient and physician URLs as well as mobile devices like iPads, Teleradiology Specialists delivers functionality not available from other service providers.
"With such a diverse mix of client sites, we are seeing a much wider variety of studies than we saw in overnight teleradiology," said David Cohen, MD, founder and President of Teleradiology Specialists. "In addition to sub specialty CTs and MRIs, we are reading X-Rays and Ultrasound studies for Urgent Care companies, Dental CTs in support of implants, and mammogram from women's imaging centers." Dr. Cohen was previously the Chief Medical Officer of a national teleradiology practice has been practicing teleradiology for ten years.
Recently joining Teleradiology Specialists is Howard Reis, Vice President, Business Development. Mr. Reis and Dr. Cohen previously worked together at Imaging On Call, where Howard helped grow the company to the point where it was acquired by a public firm.. "We can deliver a quality service at a low price point" according to Reis, 'which addresses the needs of our providers to lower the cost of healthcare delivery while providing superior care to their patients."
About Teleradiology Specialists
Teleradiology Specialists provides expert radiology reading for urgent care, mobile medical and freestanding imaging centers as well as private physician practices. With very competitive pricing, high quality physicians, easy-to-use technology, and friendly, professional service, Teleradiology Specialists can customize a solution to fit the needs of any practice. The Teleradiology Specialists coverage map can be seen at http://www.teleradiologyspecialists.com/state-licenses/,
Contact:
Howard Reis
hreis(at)teleradiologyspecialists(dot)com
888-819-0808
http://www.teleradiologyspecialists.com