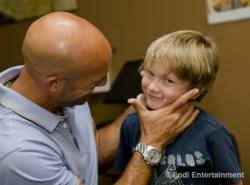 As a pediatric chiropractor I ask, If all these medications were working, wouldn't it make sense that these conditions would be on the decline rather than on the rise?
San Diego, CA (PRWEB) August 29, 2012
When it comes to unnecessary medication and children, San Diego Chiropractor, Dr. Marc Gottlieb believes it is a disturbing trend in the United States. "The U.S. makes 7-8% of the world's population, yet we consume over 90% of the world's drugs. I believe a reason for this is we are not addressing the true cause of medical conditions in the U.S., we are simply using medication to cover up symptoms and pretend the conditions don't even exist," says Dr. Marc.
"When it comes to children, this is particularly alarming as more kids are on drugs for ADHD, colic, asthma, allergies, acid reflux, learning disabilities, sleep disturbances, and behavioral problems. As a pediatric chiropractor I ask, if all these medications were working, wouldn't it make sense that these conditions would be on the decline rather than on the rise?" continues Dr. Marc Gottlieb.
Dr. Marc offers an alternative solution to medication for infants through his baby chiropractic care. As a health care professional who works directly with children, Marc has developed a reputation as a top San Diego pediatric chiropractor. Through his new children's chiropractic blog he will share news about an undetected condition in children that may be the cause of many of their symptoms. The children's chiropractic blog will share stories of baby and pediatric chiropractic miracles as most parents state them to be. Parents looking for natural alternative health care for their children may be interested in reading Dr. Marc's pediatric chiropractic blog, which may answer many questions pertaining to children's health concerns of today.
"The main condition that is being overlooked in babies and children is called a Vertebral Subluxation," says Dr. Marc. "This is a condition where one or more of the spinal vertebrae become out of alignment and create pressure on the nerves. The nerves in your body control all the organs, tissues, and cells, therefore, allowing for proper function and communication in the body. If these nerves have enough pressure, it can cause the communication to misfire and lead to all sorts of health issues," added Dr. Gottlieb.
As a children's chiropractor, Dr. Marc sees a tremendous variety in the conditions a vertebral subluxation can lead to. There are a variety of reasons why these bones get out of position in a baby and child. It can either be physical, chemical, or emotional stress. Birth trauma, poor diet, and falling while learning to walk are just a few examples of the stresses that can cause a child's misalignment. By using gentle correction, any child can have their nervous system and immune system restored to balance and, thus, guiding their bodies back to balance and allowing them to heal naturally.
About Dr. Marc Gottlieb:
Dr. Marc Gottlieb graduated from the University of California, San Diego with a bachelor's degree (honors) in Psychology. After this, Dr. Gottlieb attended the esteemed Palmer College of Chiropractic West in San Jose, CA, receiving a doctorate of Chiropractic degree in 1999. With a diverse background in education and athletics, Dr. Gottlieb provides incredible chiropractic education and inspires others to achieve maximum health. He has an overwhelming passion for life and a very close relationship with his wife Clover and his two sons. He strives to remain balanced in life at all times. Dr. Gottlieb has an intense desire to serve the San Diego community and make a difference in the lives of everyone he touches and has a thriving pediatric chiropractic practice. He has developed an unrivaled and unparalleled atmosphere and energy at the Life Within Family Chiropractic. Since 1999, Dr. Gottlieb has served thousands of people in one of the most successful chiropractic practices in the greater San Diego area. Dr. Gottlieb believes that the journey toward health requires a team to hold you accountable and inspire you to live life at your maximum energy level. Under the guidance of Dr. Gottlieb and his team at Life Within Family Chiropractic Center in San Diego, Dr. Marc provides the opportunity to achieve incredible health goals for all of his practice members. As a family chiropractor, Dr. Marc Gottlieb has developed highly advanced techniques with specific care plans to suit each person. As a chiropractor in San Diego, Dr. Marc is dedicated to each member's wellness and has received incredible results where many thought they could never be helped. Dr. Marc offers his free children's chiropractic blog to help empower parents across the world in achieving optimal health for their children and themselves.