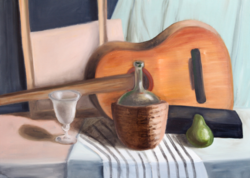 Pawleys Island, SC (PRWEB) August 29, 2012
The Litchfield Inn and the Grand Strand area are getting excited for the 22nd installment of the Pawleys Island Festival of Music & Art. This annual festival consistently brings exceptional artists to the area to display their work year after year. While the festival started as a single performance, it has grown to a 2 week art extravaganza. Attendees of this great event can expect to see exquisite works of art, watch some great film and listen to fantastic musical performances. The growing popularity of the Pawleys Island Festival of Music & Art has brought people from all over to South Carolina. The Litchfield Inn in Pawleys Island welcomes out of town festival attendees to their wonderful oceanfront hotel, and be just minutes from all of the great festival events.
The festival begins September 27th and events will continue through October 14th. There will be many events covering various art forms throughout the festival. Some of the events require tickets while others are free or ask for a donation. Some of the more art-centric events include a Wearable Art Luncheon, Art Gallery Crawl, Chalk Under the Oaks and more. There will also be stage performances like the Bright Star Theater's Production of "Once Upon A Time," and films such as The World's Smallest Airport and Jack Kerouac: King of the Beats. It wouldn't be the Pawleys Island Festival of Music & Art without some great musical performances. Festival attendees will be treated to the sweet sounds of the Young @ Heart Chorus, Mac Arnold and Plate Full O' Blues, Taylor Johnson, Fireworks Ensemble American Tapestry, Steve Tyrell and more. Tickets are on sale now for many of these events.
There will also be a Wine Gala held on October 5th from 7:00pm to 10:00pm at the Reserve Golf Club of Pawleys Island. Over 80 distinguished wineries will have samples on hand and delectable hors d'oeuvres will be served. Many varieties of wines will be available for purchase and are priced below retail for event attendees. There will also be a silent auction with some great items to bid on. The night will wind down with the crowd favorite, dessert tasting.
In 2010, the Pawleys Island Festival of Music & Art established the Kathryn Bryan Metts Scholarship for the Visual Arts. This scholarship is named in memory of the late Kathy Metts who was an outstanding artist that donated many of her works as well as her time to the arts in this area. Some of the proceeds from festival events will go directly toward this great scholarship. There will also be a limited run of Kathy Metts prints that will be for sale with proceeds benefiting the Scholarship.
Those planning on attending the event should get their tickets and book their hotels now. This event has become very popular over the years and tickets sell quickly and hotels fill up fast. The Litchfield Inn welcomes out-of-towners who are attending Pawleys Island Festival of Music & Art events to stay at their gorgeous oceanfront hotel which is in a perfect location, close to any of the events. Visit http://litchfieldinn.com/ for lodging and http://pawleysmusic.com/ for tickets and event information.