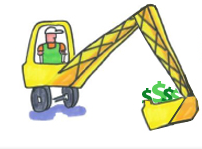 Demand for data centers is "exploding,"
Chicago, IL (PRWEB) August 29, 2012
Construct-A-Lead®, the Commercial Construction Industry's most efficient construction lead service, is now flagging data centers on its commercial construction reports.
The question regarding the market size of data center construction may still be under construction, but studies have begun to offer varying estimates as to how large this construction community can be. Christian Belady of Microsoft projects global data center construction will reach $78 billion per year by 2020. The U.S. market for data center construction currently ranges for $15 billion a year, and will likely grow to about $18 billion, before year's end.
According to Data Center Knowledge (DCK), an online source of daily news and analysis about the data center industry, the growth in the industry is more than one might expect. Belady assumes, through current economics, annual data center construction spending will soar to $50 billion a year in the U.S. and $218 billion globally. Demand for data centers is "exploding," says Raj Gupta, PE, LEED AP, CEO of Environmental Systems Design and emeritus member of BD+C's Editorial Board. Construct-A-Lead® has only begun to report on these construction projects, but has already amassed a robust database of data center reports.
Construct-A-Lead's® job is to find commercial construction projects like these to help their subscribers gain intelligence on the construction industry. As these data center report numbers soar in progression, so does the database. Whether you're finding a lead in the New York metro area, or trying to find more information about a project in Texas, these reports can help businesses gain information on the booming data center industry.
Construct-A-Lead.com® is an online construction projects database. It helps contractors, service providers, manufacturers, distributors, suppliers and businesses in related industries gain information on all large scale commercial construction projects. The service features hotel construction, office buildings, retail construction, medical facilities, school renovations and much more in addition to data centers, including those hard-to-find private project leads, from planning stage through completion. Construct-A-Lead's daily updates of commercial construction project leads are an ideal solution for those who want to put their product or service into commercial, government and religious structures.
For more information on upcoming construction projects in your area, visit Construct-A-Lead online or call 855-874-1491 or email us at info(at)construct-a-lead(dot)com
-Seth Cohen