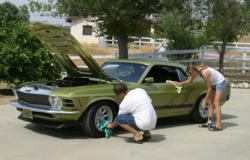 Follow these 10 common sense car survival tips and your vehicle might make it to 300,000 miles—and beyond.
Torrance, CA (PRWEB) August 29, 2012
autoMedia.com offers thousands of free expert do-it-yourself car care and auto repair articles to help motorists extend the lives of all kinds of cars—from the multi-use SUV to the high-performance musclecar. According to autoMedia's veteran auto repair editors, all it takes is a simple commitment to saving money and 10 Common Sense Car Survival Tips to keep a car on the road and running strong long after it's paid for.
The Automotive Aftermarket Industry Association (AAIA) reports that "vehicles in the 11+ year old category now comprise almost 47 percent of total light vehicles (up from 40 percent in 2006)." Drivers are clearly keeping their cars longer, which is why it's critical to give them the best odds against aging and mechanical failure with routine maintenance.
"The asphalt jungle and the atmosphere pose plenty of challenges for everyday drivers and their cars," notes Deborah Neal, editorial director at autoMedia.com, "so how people drive and how well they take care of their cars help determine vehicle longevity and ownership costs." Avoiding these Top 10 Auto Maintenance Mistakes can be the difference between spending a little on maintenance or a lot on repairs. Contributing editor Jim Smart advises, "Follow these 10 common sense car survival tips and your vehicle might make it to 300,000 miles—and beyond." Some of the tips are:
1. Best Life Insurance: Clean Oil
2. Transmission Service Like Clockwork
3. Be Brake Friendly
4. Keep the Cool in the Cooling System
5. Never Let Your Car Know It's Paid For
According to TrueCar.com, the average price of a new car or light truck in the U.S. as of April 2012 was $30,303. An automobile can last a lifetime with dedicated car care. Parts may become obsolete and those creature comforts will surely become dated, but the big benefit is saving money on new car payments and lower insurance premiums. For details on the above and all 10 tips, please visit 10 Common Sense Car Survival Tips at autoMedia.com
About autoMedia.com: The auto website was launched in September 2000 by a team of automotive editorial, design, and publishing professionals, with the goal to be the premier provider of quality automotive content on and for the Web. Today it features over 92,500 pages of original articles, including over 2,500 features researched and written by leading automotive experts, covering new and used car buying, new vehicle previews, road test reviews, car care maintenance, professional driving advice, and technology. Automotive enthusiasts and new car shoppers can read about the latest industry news, pricing, rebates and incentives, view photo galleries and research details on all makes and models. For more information visit autoMedia.com.