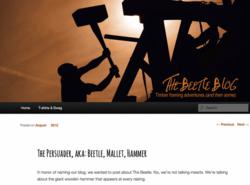 We're excited to provide a behind-the-scenes look at timber framing through The Beetle Blog
Farmington, NY (PRWEB) August 30, 2012
The Beetle Blog, Timber Framing Adventures (and then some), as written by New Energy Works Timberframers, details timber frame raisings, home designs, tools, company updates, and more. New Energy Works named their blog after the beetle, a wooden hammer that is an essential tool, present at every timber frame raising.
"In The Beetle Blog we explore the intricacies of timber framing, celebrating nuances such as the beetle. This wooden hammer is a symbol of our trade and always a popular topic of conversation during timber frame raisings," explains Megan Dean, Marketing Specialist at New Energy Works.
The handcrafted beetle, also known as the 'persuader', weighs 20 to 30 pounds, has a hardwood handle, and most commonly, a Douglas fir head. It is used to seat joinery together, shift posts or beams, and on occasion, drive in pegs. A special post on The Beetle Blog is dedicated to its namesake, featuring stories with imagery of the hammer and its many uses.
"We're excited to have the blog space dedicated to a behind-the-scenes look at timber framing," continues Dean. "We'll also share what's new in our world from raisings, to homes that inspire us, to our favorite fine woodworking hardware, to upcoming events."
Recently on The Beetle Blog, New Energy Works offered a sneak peak at their annual calendar, due for release in late 2012. Other posts explore details from their fine woodworking division and provide timber frame porch design ideas. Questions, comments, and ideas are a welcome part of the blog conversation.
New Energy Works Timberframers have been designing and building environmentally responsible timber frames across the USA for nearly 30 years from their facilities in New York and Oregon. Offerings include: Timber Framing (design, engineering, manufacturing, build), Enclosure Systems, Fine Woodworking, and Recycled and Sustainable wood products. New Energy Works has two LEED AP staff members, is a member of the US Green Building Council, and is FSC Certified.