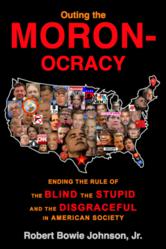 Understanding the Mindset of the Moronocracy is the Key to Overcoming It
Annapolis, MD (PRWEB) August 30, 2012
Solving Light Books today announced the release of "Outing the Moronocracy: Ending the Rule of the Blind, the Stupid, and the Disgraceful in American Society," by Robert Bowie Johnson, Jr. In it, the author identifies the six pillars of the Moronocracy as Oprah Winfrey (representing Hollywood and the popular culture), Academia, the National Academy of Sciences (NAS), Apostate Christendom, the Malleable Marxist Media (MMM), and the Obama Regime.
According to Johnson's book: Oprah, after spiritually anointing Obama in 2008, continues to spread worldwide the warmed-over lies of the Genesis serpent as wondrous "enlightenment" for humanity. Academia has turned what ought to be open-minded centers of learning into haunts of intellectual darkness. The atheist hierarchy of the NAS has reverted to Dark Age a priori pseudo-science, demanding that its moronic speculations about chance human reptile descent be accepted as "fact" without evidence. At its core, Apostate Christendom is characterized by more than 12,000 "Christian" ministers who revel in getting their doctrine, not from Christ or Paul, but from an atheist academic. The MMM has abandoned even the pretense of objectivity, becoming enchanted by Obama and his sophomoric Marxism, just as Echo, in Ovid's ancient story, became enchanted by Narcissus, the namesake of all pathological narcissists, including Obama himself. By his own words and actions, Obama, while feignedly claiming to be a Christian, repeatedly reveals himself to be a Darwinist, Marxist, Humanist, Cainite.
Each pillar of the Moronocracy, Johnson says, has abandoned our national motto "In God We Trust" in favor of belief in the depraved and unfruitful reasonings of Plato, Charles Darwin, Karl Marx, Friedrich Nietzsche, and Joseph Campbell. Mr. Johnson also said that while those who are part of the Cainite Moronocracy exemplify the following phrase, it is doubtful that any of them could identity its source: "Alleging themselves to be wise, they are made stupid."
All of Chapter One may be read at http://www.themoronocracy.com, along with excerpts from the other chapters.