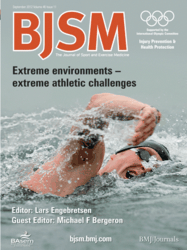 Extreme conditions can challenge an elite athlete to the point of an eventual devastating outcome.
Sioux Falls, SD (PRWEB) August 28, 2012
Sanford Health's Michael F. Bergeron, PhD, FACSM, is the guest editor and a contributing author in the September issue of the British Journal of Sports Medicine (BJSM).
Dr. Bergeron, who serves as the executive director of the National Youth Sports Health & Safety Institute and National Institute for Athletic Health & Performance, co-chaired a meeting held at the International Olympic Committee (IOC) headquarters in late 2011 in Lausanne, Switzerland. From that meeting, a consensus statement was drafted on the unique and sometimes extreme environmental challenges Olympic- and other international-level athletes face. Bergeron was lead author of that consensus statement, which appears in the latest issue of BJSM.
"Extreme conditions can challenge an elite athlete to the point of an eventual devastating outcome," said Dr. Bergeron. "The heat and cold affect performance just like it would for a recreational athlete. However, because of the high level of performance and physiological demands, these conditions, as well as altitude, can pose particular challenges for the world-class athlete and create complex and often times potentially dangerous situations for these elite competitors. The IOC Medical Commission recognizes this, and guidelines to minimize risk are in place--but more needs to be done to protect the athletes while providing an opportunity for them to perform optimally."
Dr. Bergeron also co-authored an opening editorial in BJSM titled "Protecting elite athletes in extreme and challenging environments: advancing the dialogue." An additional article by Dr. Bergeron and others, "Hyperthermic-related challenges in aquatics, athletics, football, tennis and triathlon," was also included (a subscription is required to read the full article).
The BJSM is a well-recognized, high-impact peer-reviewed journal that covers the latest advances in clinical practice and research in sports medicine.
Internationally recognized for his research in exercise, heat stress and youth athletic health and leadership in the sports medicine community, Dr. Bergeron is a fellow and past trustee of the American College of Sports Medicine. He also serves on the Sports Medicine Advisory Committee of the National Federation of State High School Associations.
To learn more about Dr. Bergeron and his work with the NIAHP, click here.