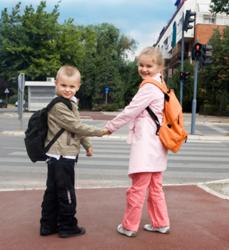 Shoes that do not fit properly can cause irritation and lead to serious injury in developing feet.
Bethesda, MD (PRWEB) August 30, 2012
Ready or not, kids are racing back to the classroom and the playground. As busy parents are keeping track of backpacks, books, and new school supplies, there's one important item that tends to fall off the checklist this time of year: properly fitting shoes.
Children's feet change with age—about every few months on average. Additionally, shoes that do not fit correctly can cause irritation and lead to serious injury in developing feet. According to the American Podiatric Medical Association (APMA), a pair of well-made shoes can go a long way toward preventing sprains, strains, and serious injuries. Because a child may not complain if their shoes are uncomfortable or if they have foot pain, it's important to examine footwear regularly, and find a podiatrist if a foot or ankle injury is suspected.
What's the simplest way to check for healthy shoes? Put them through APMA's "1,2,3 Test." Performing this test on your child's footwear can take the guesswork out of finding a healthy shoe during the beginning of the school year and beyond, and only takes a few minutes:
1) Make sure the shoe has a stiff, supportive heel. Press on both sides of the heel counter, on the back of the shoe. It shouldn't collapse.
2) Check toe flexibility. The shoe should bend with your child's toes, and not in the middle of the sole of the shoe.
3) Select a shoe with a rigid middle. Grab the shoe on either side, and gently twist. If it twists with ease, it's lacking in support.
APMA also gives several models of children's footwear its Seal of Acceptance for promoting proper foot health. For a full list of footwear with the Seal of Acceptance, more information about foot health and to find a podiatrist near you, visit APMA.org.
The American Podiatric Medical Association (APMA) is the nation's leading professional organization for today's podiatrists. Doctors of Podiatric Medicine (DPMs) are qualified by their education, training, and experience to diagnose and treat conditions affecting the foot, ankle, and structures of the leg. APMA has 53 state component locations across the United States and its territories, with a membership of more than 12,000 podiatrists. All practicing APMA members are licensed by the state in which they practice podiatric medicine. For more information, visit APMA.org.
# # #