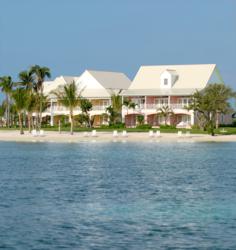 It's our back to school special. We're back in class, so to speak, with old friends and some new faces.
James Culmer, General Manager
West End, Grand Bahama Island (PRWEB) August 29, 2012
Old Bahama Bay Resort & Yacht Harbour invites guests to rediscover the sunny skies and gracious smiles of West End, Grand Bahama Island this fall as the resort re-launches with new management and exciting new affiliations. Old Bahama Bay is celebrating this milestone by offering a $150.00 per night room rate with a third night free in the hotel from September 4th through October 31st, 2012. Dockage in the marina is being offered at $1.00 per foot per night!
In early August 2012, a new management team took over resort operations spearheaded by Island Ventures Resort & Club, Ltd., a new hospitality company that is owned by the Old Bahama Bay property owners and whose principals were involved in opening and operating Old Bahama Bay from 2001 to 2007.
The new team has already implemented a number of new partnerships:
1. Old Bahama Bay is now a Guy Harvey Outpost Expedition Property: Guy Harvey Outpost Resorts & Marinas is a collection of properties in unique destinations owned and staffed by people who are passionate about their time on, in, and around the water. http://www.guyharveyoutpost.com/
2. Stuart Cove now operates an award-winning scuba diving operation directly from Old Bahama Bay. Guests can dive with sharks, rays, and other exciting sea life from a high-speed dive boat. Offered 3 times a week, the all-day Tiger Beach Shark Excursion offers a truly unique way to interact with these amazing creatures. The diving off of West End includes excellent wrecks, reefs, walls and wild dolphins – all located within an easy ride from the dock. http://www.stuartcove.com/tigerbeachhome.aspx
The new management team also has plans to make the following immediate improvements:

Upgrade the resort's activities programs including the purchase of new bicycles and water sports equipment.
Restart weekend promotional events including beachfront bonfire cookouts and live Bahamian entertainment.
Restart its very special wedding programs
For more information or reservations please call 1-888-800-8959, email sales(at)oldbahambay(dot)com or visit http://www.oldbahamabay.com.
Old Bahama Bay Resort & Yacht Harbour
Old Bahama Bay is located in the historic village of West End, Grand Bahama Island approximately 26 miles west of Freeport and 56 miles due east of Palm Beach, Florida. Private boats can arrive via the yacht harbour at Old Bahama Bay, an official Bahamas Port of Entry with on-site customs and immigration.
Known for its "barefoot elegance," the tranquility of the resort's secluded hammock-lined beach provides an ideal island escape for both families and couples. With a wide-range of on-site activities, guests can choose to relax at the oceanfront swimming pool and along its beautiful beaches, or they can participate in more adventurous activities including fishing, diving, snorkeling and boating. Resort amenities include complimentary use of Wi-Fi, kayaks, snorkel equipment, the fitness center, and bicycles. The oceanfront Teaser's Tiki Bar serves breakfast, lunch and dinner. Massage services are also available by appointment.
Accommodations include 67 beachfront junior suites, and 6 one and two-bedroom suites. Every room is filled with little extra touches such as rich mahogany woods and textured leather furnishings, luxurious bathrooms, fine linens and robes, refrigerators, microwaves, coffee makers, DVD and CD players, cable television, oceanfront terraces and more. The marina is a 72-slip full-service yacht harbour with lighted entry markers for night arrival, fuel dock, power, water, cable TV and pump out stations. It can accommodate vessels up to 120'.