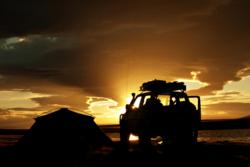 Moab, UT (PRWEB) August 29, 2012
Moab, Utah, a premier destination spot for the lover of the outdoors, is gearing up for the 2013 event season. Some big events take place in early spring, and resorts are encouraging those with plans to visit to start making reservations.
One of the biggest events to hit Moab in the spring is the Easter Jeep Safari, a week long event that is one of the largest of the year for the area. Taking place from March 23rd through the 31st, this event features day long trail rides departing from Moab all week long.
The Jeep Safari anticipates bringing in thousands of riders, with the main event occurring on the 30th which includes about 30 groups beginning in downtown Moab to head off in about 30 different directions for all different trails.
Many resorts, including premier luxury resort, Sorrel River Ranch, are looking forward to this event due to the high volume of traffic to the area during the week. The event, along with host Red Rock 4 Wheelers and local resorts are encouraging those with plans to attend to start booking reservations as early as possible.
More information regarding the event can be found on the Red Rock 4-Wheeler's website.