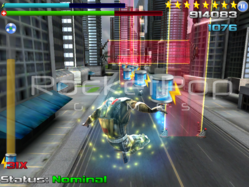 we love games so we set the bar high-
Stephen Wilkinson
Plano, TX (PRWEB) August 29, 2012
Well its official, RocketPop Games will soon release their new title "Jetpack Junkie." The RocketPop team has released a few screenshots here and there and recently started a large beta group to test the game from their Facebook page and game sites such as Touch Arcade.
Stephen Wilkinson, co-founder RocketPop Games and long-time industry veteran, said "we wanted to work out the game balance and smooth the corners before announcing what we have been working on" he continues "after our awesome beta testers played the game and gave feedback over the last few weeks, we turned a few knobs here and there and the result is a very fun game we believe people will enjoy and play over and over".
When asked what the goal of the game was Wilkinson said this "we love games so we set the bar high. We wanted a gorgeous environment and fluid controls with the ability to upgrade your character(s). Additionally we strove to get the most out of the iPhone and iPad and tweaked virtually everything to meet expectations- which were a fun to play game that has a premium look and feel."
The game is based on the future, where aliens have taken over a large city and are using a jamming technology to hide their weapons. A new group of soldiers has been created, "Recon Runners", who run and fly through the city and map enemy locations. Some of the Recon Runners become legendary and they are called "Jetpack Junkies."
Jetpack Junkie is due to release in the next few weeks.
Join RocketPop Games on Facebook to see screenshots and development updates on their current and future titles and to communicate and give feedback to the team. They would love to hear from you.
RocketPop Games LLC is located in Plano, Texas and develops software and games for different platforms such as: PC, Mac, XBOX, PlayStation and Mobile.