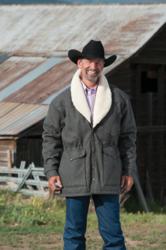 "I realized a few months ago we were one of the last full-line clothing companies left in America."
Las Cruces, New Mexico (PRWEB) August 29, 2012
Schaefer Ranchwear, one of the last American made clothing companies in the U.S. is expanding its product offering for Fall/Holiday 2012 with over fifteen new styles including shirts, vests and outerwear. "This is our single biggest roll-out of new product in preparation for our 30th Anniversary, including three new shirt styles, four wool vest styles and the brand new RangeTek Collection featuring waterproof breathable shells combined with sub-zero insulation. The RangeTek Collection includes a full array of insulated and non-insulated products ranging from lightweight jackets and pullovers to parkas and vests," according to Rick Grant, President of Schaefer Ranchwear.
Trying to survive as a small clothing business in America these days is almost like a shoot-out at the OK Corral. "Stick to your guns" is one of the oldest cliché's around, but that's what Rick and Lynn Grant are doing with Schaefer Ranchwear in southern New Mexico; two entrepreneurs who teamed up years ago to champion the design and manufacture of American made only Ranchwear and Outdoor clothing versus importing the line.
For several years, Grant was President of the company and then in 2001, he and his wife purchased the company. Since then, Schaefer has been on a consistent growth pattern from 12 styles to producing and selling over 80 American made styles of coats, vests, shirts, jeans and accessories. The majority of which is produced in their own 40+ employee factory located in El Paso, Texas.
"I realized a few months ago we were one of the last full-line clothing companies left in America." Long gone to importing are those iconic Americana brand names such as Lee, Levi, and Wrangler. Sounds good doesn't it? Well not really, since Schaefer has made a commitment to purchase American made raw materials too. Over the last three years, major suppliers have either gone out of business or downsized in order to survive. Downsizing means longer lead times and higher prices in most cases. "It's not easy, with most styles requiring a long list of American made components. Unfortunately, 7 out 10 of our suppliers are having a hard time financially, plus the textile industry as a whole is virtually gone. Luckily there's just enough suppliers left to supply American apparel manufacturers, but I'm not sure how long that's going to last," according to Grant.
Grant attributes their success not only to their made in America roots, but their commitment to quality and timeless, traditional styling. "They go hand in hand, our customers expect the best and that's what they get. There's not a day goes by, where a customer doesn't write and call us to thank us for our American made quality," according to Grant. Technology doesn't hurt either...Schaefer maintains a state of the art web site (SchaeferRanchwear.com) with lifestyle video links, monthly e-mail specials and distributes an annual catalog to its customers capturing lifestyle images of working cowboys and outdoorsman wearing Schaefer products throughout the Rocky Mountain region.
Grant does see running a small business these days like being in a gun fight everyday with the looming federal deficit, health care, taxes and unemployment impacting both production and sales. "In spite of all the negatives, we continue to grow and own a company which stands for taking pride in America, what more could we ask for,? Grant says. "We're champions of producing great American made clothing."
Schaefer Ranchwear is one of the last brand name manufacturers who design and produce premium Ranchwear and Outdoor clothing exclusively in America.
To learn more about Schaefer, visit http://www.SchaeferRanchwear.com
Media Contact:
Rick Grant, President/Owner
575-524-6764
Rick(at)SchaeferRanchwear(dot)com