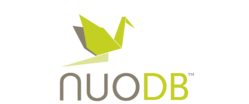 Definitely the next DB to look out for..... Frances Gesora, Gemi
Cambridge, MA (PRWEB) August 29, 2012
NuoDB, Inc., the leader in elastically scalable database software for the cloud, today announced the one-thousandth download of their software currently available as a free version in beta testing.
"Response to our beta testing has been extremely positive with customers finding the combination of elastic scalability, SQL compliance and ACID guarantees unavailable in any other solution," stated Barry Morris, CEO and Founder of NuoDB.
"As an original investor in NuoDB, it has been remarkable to see not only the velocity of downloads increase, but also the fervor with which beta customers are using the software," stated Nilanjana Bhomik, Partner, at Longworth Venture Partners.
Beta Customer Reactions
"Definitely the next DB to look out for.... As a developer, I am excited for the future," stated Frances Gesora, Gemi.
"I first set up NuoDB locally on my computer and then tested it in the cloud. Setting up NuoDB nodes was a breeze. I initiated a node failure to see how it affects my application, and everything continued to work like nothing happened," stated Idan Shechter, Developer, Israel.
"We are looking for a solution that will give us legacy code support in addition to support for explosive growth. NuoDB is the only solution that gives us both," commented Stephen Jazdzewski, Principal Architect at TabbedOut
About NuoDB
NuoDB, Inc. is a Cambridge, MA-based startup that provides the industry's first and only patented, elastically scalable database. Unlike every other database, NuoDB is architected to scale effortlessly on the cloud without compromising any of the features or guarantees of relational databases.
Founded in 2010 by industry-renowned database architect and innovator Jim Starkey and enterprise software CEO Barry Morris, the NuoDB database is currently in Beta and will become generally available in late 2012. For more information, visit us at http://www.nuodb.com.