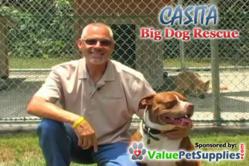 We're a family run company that cares about doing well by doing good
Inverness, FL (PRWEB) August 29, 2012
Casita Big Dog Rescue, an e-commerce sponsored team of shelter technicians and marketing executives was founded in 2010 with the mission to make saving dogs into successful marketing. Since its launch, CBDR has saved dozens of shelter dogs from Citrus County Animal Services in Inverness Florida. These dogs were selected because typical of larger mixed breeds; there are not enough adopters. Millions of abandoned shelter dogs are put down as shelters across the nation are overwhelmed with abandoned and stray dogs.
"We have a unique mission as an e-commerce sponsored rescue," says CBDR Leader Of The Pack, Rafael Cabrera. "I've spent my life working with dogs in every capacity and thanks to our sponsor ValuePetSupplies.com, now I get to save dogs and share their adoption stories."
According to Internet Retailer Magazine, "ValuePetSupplies.com, No. 665 in the Internet Retailer Second 500 Guide, has posted nearly 200 videos about the Casita Big Dog Rescue. The heart-tugging videos document the journey of the dogs, from their rescue from a local shelter by the Piech family—the retailer's founders—through the arduous six or so weeks of their rehabilitation, training and being placed in a new home. The merchant also posts these videos on its Facebook page, blog and Twitter feed, which reaches more than 7,000 followers. The efforts are sparking a viral effect for the ValuePetSupplies brand, Carter says, as the videos have been watched more than 400,000 times." ValuePetSupplies.com was also recognized by Inc Magazine as one of the fastest growing private companies in America with sales of $8.3 million in 2011, a 60% increase from $5.2 million, according to Internet Retailer estimates.
"We love dogs and after adopting from Citrus County Animal Services, we became inspired by Rafael and his passion for saving dogs," says Nick Carter, Director of Marketing at ValuePetSupplies.com. So inspired that Carter and his wife Samantha built a state of the art facility, hired Rafael and started making videos. "Casita Big Dog Rescue hits all the right notes for the ValuePetSupplies.com brand," says Carter. "We're a family run company that cares about doing well by doing good, Rafael has our total support." Catch Casita Big Dog Rescue (the show) Sunday nights at 6PM on WYKE TV 47 channel 16 on the Bright House Networks cable network for Citrus County, channel 16 on Comcast in they City of Inverness, Dunnellon, Inglis, Yankeetown or on YouTube.
Press Contact: Samantha Carter: samantha(at)casitabigdogrescue(dot)com
ValuePetSupplies.com is a family owned and operated pet supply business based in Livingston, TN. Founded by Zachary Piech and mother Cheri in 2004, what started as an eBay store is now a recognized e-commerce leader. ValuePetSupplies.com offers price leadership on top brand pet products backed by 5-star customer service. A portion of company profits saves shelter dogs every month through Casita Big Dog Rescue. Save Money, Save Pets.