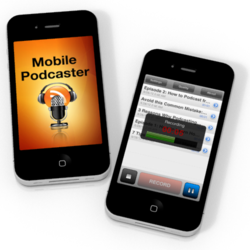 You're going to see podcasting becoming very, very big ... very, very fast in the next 18 to 24 months.
Charlottesville, Virginia (PRWEB) August 29, 2012
Marketing professionals are intrigued with the idea of podcasting but find themselves frustrated with the process and technical challenges required to record new episodes and manage a podcast over the long term. The findings are based on more than 2 years of discussion with local business owners throughout Central Virginia. According to Steinar Knutsen, creator of Mobile Podcaster and President at New Site Media Group, podcasting is a terrific online communications channel that continues to grow given the proliferation of smart phones.
In a recent video interview, Mike Stelzner, CEO and Founder of Social Media Examiner said, "Podcasting is giving a platform to businesses that is really hot. Podcasting is at an inflection point. You're going to see podcasting becoming very, very big ... very, very fast in the next 18 to 24 months."
A podcast is a recorded audio or video program to be played on a digital device, such an iPhone or iPad. Podcasts are primarily available for free on the Internet and typically follow to a series format similar to radio and television. Because the shows are recorded, listeners have the freedom to listen to these portable, on-demand episodes at their convenience.
Recording a podcast traditionally requires the use of a recording device or microphone, a computer, and software to edit and publish the finished content. A 30-minute recording may require an additional hour of work to prepare for broadcast. Most of this time is consumed with editing, writing web copy and transferring files to the Internet.
Mobile Podcaster is a new iPhone application from New Site Media Group available on the Apple iTunes App Store that streamlines the process of podcasting. The app allows users to record and publish podcasts directly from an iPhone to Wordpress, a leading online blogging tool and content management system. This saves time, reduces recording equipment requirements and enables users to podcast at anytime from anywhere.
Mobile Podcaster includes many unique features including unlimited recording length, the ability to assign a title and description to the recording and a simple wireless upload process to transfer new podcast episodes to Wordpress without any manual handling of files and blog posts. Mobile Podcaster is available for $1.99 on the Apple iTunes App Store and supports both Wordpress.org and Wordpress.com sites.
Visit http://www.mobilepodcaster.com for more information.
###
About New Site Media Group
New Site Media Group is a Charlottesville, Virginia based mobile application development and online marketing consulting firm that helps companies leverage the Internet to grow their business. Mobile Podcaster is a product of New Site Media Group is in no way affiliated with Wordpress.
If you would like more information about Mobile Podcaster, or to schedule an interview with Steinar Knutsen, please call 434-515-2095 or email Steinar at info(at)mobilepodcaster(dot)com.