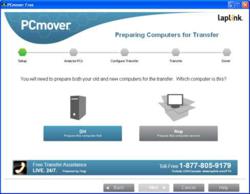 Bellevue, Wash. (PRWEB) August 28, 2012
Laplink Software, Inc. announced today the immediate availability of a free version of PCmover, the number one selling application for PC-to-PC migration and the only software that transfers files, settings, and programs from an old PC to a new one.
Although this version of PCmover is free, its features are rich. PCmover Free delivers a full migration experience to help users set up their new PC by transferring everything the user selects including e-mail, address books, pictures, music, videos, Internet favorites and much more. It even transfers up to three installed applications selected by the user.
PCmover Free also includes Laplink's new Free Transfer Assistance, an option to have a trained professional guide the entire migration experience.
"PCmover is the easiest way to set up a new PC," said Thomas Koll, Laplink's CEO. "Not all migration solutions are equal. Only PCmover can transfer installed programs. Only PCmover comes with Free Transfer Assistance. And on top of that, we are now offering a free version of PCmover."
Research on PC buyers' habits performed by Laplink indicates 1 in every 5 PC buyers are so concerned about the new PC setup process that they will put off buying a new PC. The most sensitive aspect to the buying psychology of a new PC buyer was the concern of transferring everything – including programs – from the old PC to the new one.
PCmover solves the new PC setup dilemma. Everything the user selects is transferred automatically from the old PC to the new PC, with no need to find old CDs, serial numbers, or to re-purchase programs downloaded in the past.
PCmover Free is intended primarily for consumers and small businesses. Customers who need to transfer domain users or desire to transfer an unlimited number of installed applications on a home or business PC can upgrade to PCmover Home or PCmover Professional at http://www.laplink.com. PCmover is also available from most software retailers throughout North America, Europe, and Japan and comes with a full money-back guarantee from Laplink.
PCmover Free is available exclusively for a limited time at Download.com.
About Laplink Software, Inc.
For nearly 30 years, Laplink has been the leader in consumer and enterprise software for Windows migration and refresh projects, disk imaging, file synchronization and more. The privately-held company was founded in 1983 and is headquartered in Bellevue, Washington.