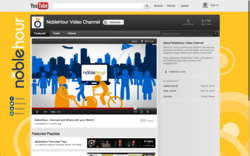 These trainings will allow us to address specific needs, though short, yet substantial, live-streaming sessions.
Lakeland, Fla. (PRWEB) August 29, 2012
NobleHour, an online social platform promoting volunteering and civic engagement, announced that they will start hosting live-streaming training sessions to ensure new and current users can create the most good during their time on the site.
"The NobleHour platform offers a multitude of tools to increase community engagement. Some people want to learn about our volunteer hour tracking tools, but others just want to learn how to share news with their local area. These trainings will allow us to address specific needs, though short, yet substantial, live-streaming sessions," said Pia Simeoni, NobleHour's Director of Marketing.
Each "NobleHour in Minutes" session will address a different topic, and be accessible on NobleHour's YouTube Channel. The first training will take place on August 30 at 2pm ET, and will introduce the NobleHour administrator panel. Attendees will learn how to brand their community, modify settings, and manage their community's members – all in less than 5 minutes.
Upcoming events can be found on NobleHour's Events page. Sessions include:
New enhancements on NobleHour
Setting up a community on NobleHour
Setting up a free presence page on NobleHour
Reports on NobleHour
Hour tracking on NobleHour
Contribute & Share News, Events, Opportunities, and Resources
Groups on NobleHour
Those interested in a more in-depth demonstration of NobleHour can register for "Let's Discover NobleHour", an hour-long webinar on Thursday Sept. 6.
About NobleHour
NobleHour is based in Lakeland, FL and was started by a team of knowledgeable business investors, representing over 70 years of unparalleled entrepreneurial and business experience. They developed SweatMonkey.org in 2005 as an online service learning management platform for students and schools. SweatMonkey was used by countless organizations such as the YMCA, the SPCA, the United Way of North Central Florida, and the University of Florida. SweatMonkey was rebranded and launched in 2012 as NobleHour.com, an engaging online community platform that includes content sharing, a database of volunteer and job opportunities and events, hour tracking tools for tracking community service hours, and community impact measurement tools. NobleHour's mission is to provide an engaging platform to help connect people with their communities to empower civic engagement.