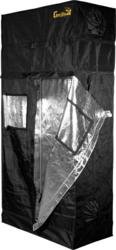 Demand continues to grow and happy customers can't seem to stop raving about their great experiences with this tent.
Pompano Beach, FL (PRWEB) August 30, 2012
From combo packs to standalone units, Fullbloom Hydroponics can barely keep these enclosures on their shelves as more and more consumers are learning the importance of maintaining consistency in their growing environment.
Whether you're just starting out or have been cultivating your own indoor plants for years, Gorilla Grow Tents are the most advanced way to keep your garden and its atmosphere controlled. Beginners and experts will have no problem snapping together the sturdy metal frame, which can support 300 pounds once fully constructed. Wrapping it in 1680D thick, diamond reflective fabric creates a light-tight seal unlike anything else on the market. The top quality components ensure the thickest and strongest growing environment for customers.
Gorilla Grow Tent introduced a world's first with the patent pending adjustable height ceiling that allows customers to adjust the height of their tent from 7' to 8' or even 9' tall. Another patent pending feature is the infrared blocking roof insert, which helps regulate the temperature of the tent.
All units are constructed with a bug-resistant micro-mesh pre-filter which ensures that all air entering the tent is clean, safe for the plants, and most importantly; pest-free. Other features include 10-inch ducts, 360-degree access for easy garden maintenance, sealed windows on the front that allow you to check on your plants without affecting temperatures, and even a convenient pouch to store all your important tools and various nutrients.
Fullbloom Hydroponics stock of Gorilla Grow Tents has been flying off the shelves. Demand continues to grow and happy customers can't seem to stop raving about their great experiences with this product. Fullbloom Hydroponics will include a free height extension kit, which allows customers to increase the height of their tent from 7 feet to 8 feet tall. Additional extension kits are also available for purchase. Add in the included patent-pending infrared blocking roof and you've got a deal which can't be matched by any other online store today.
Gorilla Grow Tents are quickly becoming the new industry standard for indoor gardeners and cultivators alike, so click here to visit Fullbloom Hydroponics and join the Gorilla Growing Revolution today!
Written by Chris Stobing