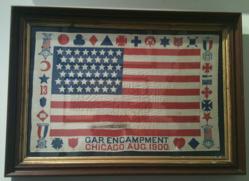 Wheaton, IL (PRWEB) August 30, 2012
The Du Page County Fairgrounds will commemorate the 151st year of the start of the Civil War on Saturday, September 15, 2012 from 9am to 4pm. The show & sale will consist of high quality Civil War memorabilia including rifles, swords, handguns, autographs, currency, uniforms, & 1000's of Civil War artifacts. This is the only show & sale of its' kind in the Midwest, affording dealers & collectors an opportunity to own a true piece of American History. Due to increased demand, Robert Zurko, the Promoter of the show, has expanded the show to include World War I and II memorabilia. Area Civil War Round Tables will also be attending.
In addition to the usual stock of new and rare Civil War and Lincoln Books, The Abraham Lincoln Book Shop of Chicago, IL will be bringing two stunning artifacts. One is a silk flag from the G.A.R. in Chicago. This beautiful flag has strong local appeal, as it was a souvenir of the encampment of the G.A.R. in Chicago.
The shop is also bringing an original broadside published by the Charleston Mercury on Dec. 20, 1860. This broadside officially announces the intention to dissolve the Union between the State of Carolina other States united with her under the compact entitled "The Constitution of the United States of America."
Also in attendance will be Rafael Eledge, one of the country's most active and knowledgeable expert of the Civil War and 19th century militaria. His career began at the age of 11, when he received his first metal detector and began searching around his home state of Tennessee for Civil War artifacts. Rafael now owns ShilohRelics.com, one of the busiest websites on the internet and the site has active inventory that rivals some of the nations' best museums. He is also seen regularly on PBS's Antique Road Show as the Civil War appraiser.
Show hours on Saturday, September 15th are from 9am to 4pm. General Admission is $9.00. Children 16 and under are free, as well as the parking. For additional information on this and other Zurko Promotions, call or write: 115 E. Division St. Shawano, WI 54166 (715-526-9769) http://www.zurkopromotions.com
Directions from Chicago:
Roosevelt Rd. W. to County. Farm Rd., turn N. to
Manchester, E. on Manchester 1/2 mi. to Fairgrounds.
Address:
DuPage County Fairgrounds
2015 W. Manchester
Wheaton, IL 60189