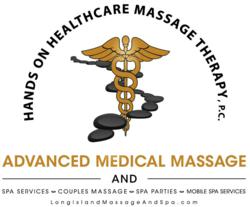 Look as good on the inside as you feel on the outside
(PRWEB) August 30, 2012
Hands On HealthCare Massage Therapy and Wellness Day Spa, a leader in the day spa and skin care industry, is pleased to announce the addition of Joy Abbruzzese, Elaine Mecardo and Joann Samuelson, Licensed Esthetitians, to their Spa Services Division.
This is the second time Abbruzzese has joined the staff at Hands On. Abbruzzese has always been interested in cosmetics, particularly after selling makeup part time. After starting at Hands On as an office assistant, she became interested in esthetics and decided to pursue a career in the field. She enjoys learning more about cosmetics and skin care and is licensed to do esthetics, waxing, microdermabrasion, and laser hair removal. Mecardo boasts over thirteen years of experience as an esthetician. Her resume includes a history of owning and directing her own spa in the Bronx. Her mother was a cosmetologist and hairdresser so it was only natural that Mecardo would follow in her mother's footsteps. This is a second career for Samuelson. She left an office job to work for makeup companies Mary Kay and Arbonne where she became passionate about esthetics and skin care. Samuelson then decided to attend the NY Institute of Beauty. Samuelson is also currently attending school to become a Licensed Massage Therapist, as well.
"Abbruzzese, Mecardo and Samuelson, will be a great addition to the staff," says Marla Kaplan, Spa Director. "Their values regarding customer service reflects the same ideals of Hands On since its inception in 2000." All three are talented, caring individuals and believe it is important to, "Look as good on the inside as you feel on the outside." The Spa Services Menu will be revamped to include more custom facials, body care and specialty skin care treatments.
"I am excited to provide Hands On clients with the best skin care and customer service! " stated Samuelson, who will begin accepting appointments at the company's Commack location on September 8, 2012. All three will be providing services including facials, peels, body treatments and more. Mecardo will also be introducing Permanent Cosmetics to Hands On clientele in the near future. Mecardo has been providing Permanent Makeup Services to New Yorkers for over 13 years. These services will include paramedical procedures, such as scar camouflage and beauty procedures, such as eyebrow and eyeliner permanent make-up. Interested clients may schedule an appointment by calling 631-462-4263 for more information.
Hands On HealthCare Massage Therapy and Wellness Day Spa has been serving the Commack Community since 2000. The company is a recognized leader in Advanced Medical Massage in Suffolk County, Long Island, specializing in pain, injury and disease. Modalities include Pre-Natal and Post-Natal Massage, Sports Massage, Trigger Point Therapy, Myofascial Release, Manual Lymph Drainage and much more. In addition, we offer spa treatments that include facials, skincare and signature body treatments. Hands On has an extensive Couples Spa Date Menu and Spa Party packages available for both on and off-site. Mobile services include bringing the day spa to your doorstep at home, venue or corporate function. Common events include Bachelorette Parties, Showers, Birthdays, Bar and Bat Mitzvahs, Sweet 16 Corporate Events and functions. Hands On HealthCare Massage Therapy's Licensed Massage Therapists and Estheticians provide clients with the ultimate experience in attention, service and care.
Hands On HealthCare Massage Therapy and Wellness Day Spa
Marla Kaplan-Pelle, Licenced Massage Therapist, Certified Lymphatic Therapist, Director
208 Commack Road, Commack, NY 11725
631.462.4263