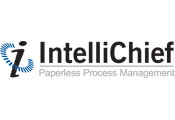 Mansfield, MA (PRWEB) August 29, 2012
IntelliChief LLC, a leading paperless process management solutions provider and exclusive Document Management solution partner of B&L Information Systems will be exhibiting at Spectrum '12 -- a premier educational and networking event for metalcasters who use B&L's enterprise software solutions.
Spectrum '12 will be held on September 9-11 at the Sheraton Indianapolis City Center in Indianapolis, Indiana. IntelliChief will demonstrate their document management and document workflow solutions which have been seamlessly-integrated with B&L's Odyssey and BLIS-400 ERP applications.
When either Odyssey or BLIS-400 is used in conjunction with IntelliChief, it enables the creation and capture of key business documents electronically, making them available directly from a users' desktop computer and application screens. This allows users to better, and more accurately, manage the complex business processes surrounding the receipt of unstructured data in the form of paper-based business documents whether they are generated internally or received from supply chain partners or customers.
Attendees can expect to learn, first-hand, how easy it can be to…

Custom-configure integration points and choose which documents are to be automatically indexed and stored directly from their B&L application
Select the screens from which documents will be made available with a simple click of the mouse
Control when users will be prompted to scan physical documents
Securely store and index documents for easy retrieval by authorized users
Manage their organization with more accurate, fully-integrated, and entirely up-to-date information
Improve information quality, accessibility, and analysis
Eliminate redundant data and tasks
Lower labor costs due to faster business document processing
Increase efficiency and reduce costs by going paperless in accounting, purchasing, and customer service
Efficiently handle paper-based documents in complicated processes
Conduct internal and external audits more efficiently and at a lower cost
IntelliChief encourages attendees to stop by their booth to learn how they can begin to enjoy all of these benefits through their B&L applications.
###
About IntelliChief
IntelliChief, is the leading provider of document management and document imaging solutions for the IBM i (System i, iSeries, AS/400) Enterprise. With decades of expertise in the market and seamless integration with leading ERP software vendors, IntelliChief takes companies of all sizes paperless with a typical ROI of less than one year. Users can create, capture, manage, archive, retrieve, and distribute mission-critical documents directly from their familiar ERP screens, eliminating the need for filing cabinets, storage facilities, fax machines, copiers, and paper files.