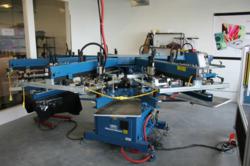 (PRWEB) August 29, 2012
The Canadian web-based custom printing company has now improved their ability to produce custom t-shirts for large events and companies. The retailer currently offers a wide variety of apparel and custom designs to choose from as well as the possibility for clients to upload their own images online. Their online system has simplified the process of ordering screen printed apparel, eliminating the need for the back and forth that has traditionally been required in the print market.
"This new acquisition will allow us to be more competitive with local printers," said Eric Gautier, founder and CEO of Wordans.com. "We want to be able to accommodate our clients with the shortest delays and lowest prices on the market."
The new printing press, that can print as many as 800 custom t-shirts per hour was inaugurated after weeks of construction, installation and training from the most qualified screen printers and technicians in the industry. The implementation required a whole reorganization of the supply chain in order to efficiently organize production. Along with the new machine, Wordans is launching new screen printing discounts that will save the customer up to 75% on regular prices.
This new acquisition mainly targets clients with large orders such as schools, bands, companies and event managers though Wordans still accommodates any size of online order. The company is still optimizing the production of smaller orders thanks to digital printing technology. Gautier is proud to confirm that everyone can now find what they are looking for at Wordans, whether their needs are for 1 or 1000 custom t-shirts.
Wordans.com is an online retailer of custom apparel and accessories based in Montreal. The company offers a wide range of products including t-shirts, hoodies, posters, wall decals, and Iphone and Ipad skins. The Canadian based company was created in 2009 and currently ships in more than 30 countries.