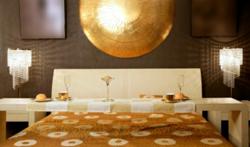 Not only will comfort reign in the house, but color and light will bring a casual space to life.
(PRWEB) August 29, 2012
Many Americans in the last few years became owners of homes whose charm was exceeded only by its repair needs. And as homeowners, these repairs are their focus, instead of the furniture and décor of the new home. Even a fresh coat of paint on the walls may take any money that is left after paying the mortgage. A new sunny family room may feature large windows that are bare and be furnished with pieces from a first apartment. So when the faulty wiring or the leaking roof get in the way of decorating a new home, use this time to plan the best use of each room.
First, consider using a sectional sofa, such as the Leather Sectional Sofa available at KindaChic.com, a home furnishing and décor site, to create instant togetherness with family or while entertaining friends. Next, select a unique piece like the Leopard Print Accent Chair to add a touch of elegance to a special nook or corner. Also,take pride in your television by showing it off on an entertainment center, such as the Allen Entertainment Center, the Lighted Plasma Cabinet or the TV Console with Glass Doors. An entertainment center can accommodate large screen televisions and add a touch of class to the family or living room.
Coffee tables are the centerpiece that invite closeness and soften the angles of the larger furniture in the room. As the centerpiece, a piece of art such as the Noguchi Tribeca glass and walnut table will work well surrounded by a contemporary style sofa and chairs. A handsome wooden trunk-style cocktail table can be functional while coordinating the look with other traditional styled pieces. Add an element of décor when you add a touch of light to a room. Lamp selections are available in hand painted or hand carved styles, in gold, silver, bronze, or crystal bases, with silk, linen or metal mesh shades. Not only will comfort reign in the house, but color and light will bring a casual space to life.