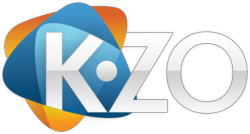 As our workforce becomes increasingly more mobile, video can be used to help people stay connected. However, your video must be accessible and delivered properly in order to make an impact. - Jeff Fissel
Reston, VA (PRWEB) August 29, 2012
Many organizations now have a mobile or telecommuting workforce and in order to accommodate these workers, video is often used in the onboarding, learning, and communication processes. To help organizations get the most out of video content for remote employees, KZO Innovations is offering a free webinar, "Best Practices for Creating and Distributing Video for a Mobile Workforce," on Tuesday, September 11 from 1 to 2 p.m. (ET).
"Many professionals expect and need access to everything on-the-go, and that includes your organization's enterprise video content," said Jeff Fissel, co-founder and Vice President of Solutions at KZO. "It's important for organizations to create video that is supported by all kinds of devices so that your mobile employees can easily access this information and stay informed."
In the webinar, Fissel will review best practices for creating and distributing mobile video for audiences, discuss Flash, HTML5 and apps, and explore the types of devices that support HTML5 and those that support Flash. Those attending the webinar will also gain a better understanding of how to create video specifically for an on-the-go workforce, best practices for content creation for mobile devices, and possible solutions to video delivery issues.
"As our workforce becomes increasingly more mobile, video can be used to help people stay connected. However, your video must be accessible and delivered properly in order to make an impact. This webinar will provide you with the knowledge to leverage video for a mobile workforce."
To register for this free event please visit: http://go.kzoinnovations.com/webinar-signup/
About KZO Innovations
KZO Innovations is a video software company that provides an on-demand video platform for the Enterprise, Government and Small Business. KZO solutions are designed to enable everyday business professionals to record, manage or deliver online video easily - without prior video expertise or help from technical resources. If you are interested in learning more about The KZO Video Suite, please visit http://www.kzoinnovations.com.