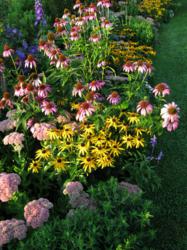 Many common garden weeds, including dandelion, plantain and white clover, get their start in the fall. Now is a good time to use a garden weed preventer to stop them.
Lebanon, PA (PRWEB) August 30, 2012
September typically brings lower humidity and cooler temperatures – a welcome relief for both people and plants. Now is the time to enjoy the garden's bounty, savor its beauty and take note of what worked and what didn't. For practical seasonal tips, see the "Garden Landscape Tips" section of preen.com.

Fall is the ideal time to add a new tree or shrub to the landscape. Transplanting is less traumatic for plants when they are not in active growth. Prices are also lower than they are in the spring. Inspect plants carefully before buying. Watch for bark wounds and broken branches, and check the root ball for signs of damage from over-crowding or dryness.
Many common garden weeds, including dandelion, plantain and white clover, get their start in the fall. If it has been three or more months since applying Preen garden weed preventer, another application now will keep the seeds of these aggressive fall-germinating weeds from sprouting.
Pot up tender herbs, geraniums and other cold sensitive plants that need to winter indoors. The transition to indoor living will be easier if these plants can spend a few weeks in a sheltered outdoor location. Hose down plants and check for insects before bringing them into the house.
Bee balm, black-eyed Susan, lambs-ears, yarrow and coneflower perform best when the plants are divided every two to three years. Remove the entire clump and separate it into two or three pieces. Put the best piece back in the original hole and plant the rest elsewhere. Allow four to six weeks for the plants to get reestablished before the ground freezes.
Lettuces, spinach and arugula are at their best when temperatures are cool. Sow a fall crop in early September so the plants can get well established before the days shorten to ten hours or less. In the south, early fall is a good time for planting salad greens as well as beets, turnips, collards, kale and onions. Once seedlings are 3" high and show true leaves, apply Organic Preen vegetable garden weed preventer to keep new weeds from sprouting.
Order tulip, daffodil and spring-flowering bulbs now for planting later in fall, once night time temperatures drop and stay cool. These bulbs should have four to six weeks to develop a strong root system before winter locks in for good.
For more information on gardening and landscaping visit http://www.preen.com. Preen is the leading brand of garden weed preventers. Preen products don't kill weeds; they are weed preventers. Apply Preen in September to stop new garden weeds from happening.