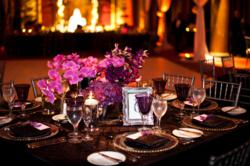 Don't be afraid to mix and match styles. Just use some important guidelines in doing so, and you will be thrilled with the results.
Delray Beach, Florida (PRWEB) August 30, 2012
Florida Wedding Planner, Aviva Samuels of Kiss the Planner is excited to announce descriptions of key wedding styles for future brides to identify with and to simplify the planning when designing the wedding of their dreams.
Aviva Samuels says that most brides have a thousand ideas running through their head before they start the planning process. Perhaps they've always loved red roses and black satin dresses but also love the idea of a summer wedding on the beach. These two concepts clearly do not particularly mesh well, so they may want to decide which is more important and develop a concept from there. Once they prioritize and choose a concept, it is much easier to pick an appropriate venue, dress, flowers, invitations and all of the other fun stuff that will occupy their minds until the big day.
Here are a few brief descriptions from Kiss the Planner of wedding style definitions to think about:
Classic:
The classic bride is a sucker for tradition. She loves the full dress, long veil, roses, black and white tuxes and cathedrals and the 'til death do you part', part. The Classic Bride's design works for all seasons and is likely going to work best at an indoor venue, such as a hotel, country club or formal banquet hall. She is also likely to take all the wedding traditions to heart.
Romantic:
Her inner Juliet loves soft colors and flowing fabrics. She have a mild obsession with anything lace and looks forward to writing your own vows. The Romantic Bride should consider a spring/summer garden wedding or a winter wedding by candlelight. She typically loves soft and fluffy floral arrangements, pale or muted colors and an abundance of candles.
Modern:
The Modern Bride likes every detail with a contemporary touch. Asymmetrical dresses, bold colors, photojournalistic photographers and sleek hairdos make her clock tick. The Modern Bride might enjoy her wedding best in the cooler months in a venue such as a Museum of Modern Art or a contemporary hotel or she can create your own modern look using a tent as her canvas.
Whimsical:
The Whimsical Bride does not take herself too seriously. She might throw tradition to the wind and wear a yellow dress or a dainty hat. She might dress her groom in high top sneakers or have her flower girls carry lollipops. Whimsical weddings work well in interesting venues such as a ballpark or theater.
Organic:
She might ride her bike to work or grow her own herb garden. The Organic Brides take everything back to nature with earthy colors, soft fabrics and wood accents. She might decide to utilize elements from the earth to decorate her wedding and might consider a wedding in the woods or on a farm.
Casual:
A Casual Bride loves to be barefoot. She also likely to be the practical type. A destination wedding may be perfect for a bride looking to make her big day relaxing and laid back for everyone involved. She may choose a dress that she can wear again or if on the beach, a gown that casually blows in the breeze, while holding a bouquet of seashells to make her day perfect. Just because it is casual does not mean it is not beautiful.
Vintage:
The Vintage Bride is enamored with details of weddings from the past such as a grandmother's locket or her mother's veil. She is a sucker for anything that was passed down from generation to generation and probably has a stash of family photos or heirlooms that she has been saving since she was small. Charming things delight her and she will likely choose a cream or white pallete accented with some subtle color.
Certainly, one particular bridal style may not be the one-and-only, for any particular bride-to-be... and that to be expected. She may see herself in many, if not most, of these descriptions. Aviva from Kiss the Planner explains to her brides that they may not fit exactly into one of these groups and most likely won't. It is perfectly okay for a bride to create her own style or to combine styles to suit her unique personality. She warns however, to just combine with caution. Be sure that there is some continuity in the design elements, such as using all glass containers, or a uniform color that ties it all together. Also be sure that the ideas are practical for the venue and that they don't wind up with that "everything but the kitchen sink" syndrome. After all, a bride in a full satin A-line ball gown and cathedral-length veil on the beach may look just a bit silly… and sweaty.
Florida Wedding Planner, Aviva Samuels from Kiss the Planner has been helping clients with wedding and other special events for nearly 15 years in the South Florida market. Aviva takes pride in having such an important role her client's lives and can you help you plan your wedding or special event. For more information go to http://www.kisstheplanner.com.