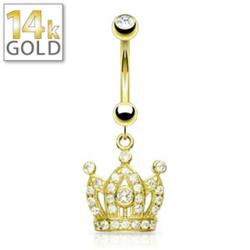 14k gold is ideal for body jewelry because its mix of gold and alloy makes it strong yet resistant to tarnishing.
Urbana, IA (PRWEB) August 30, 2012
With the popularity of real gold jewelry growing as the classic metal becomes more valuable, e-commerce retailer BellyBling.net has recently increased its line of 14k gold belly button rings on its website. The selection now includes more than 20 styles, ranging from a simple single gemstone design in classic yellow gold to a white gold belly ring with a winged heart motif.
Stasi Edberg, the company's purchasing manager says the business plans to continue increasing the gold belly ring product line and says they listen to the feedback they receive from customers when deciding what products to offer on the website. "We have a great fan base on our Facebook page, so we're able to hear directly from our customers about the styles they're looking for," said Edberg. "We're finding that the popularity of real gold belly rings is increasing as the value of the metal is going up."
Edberg says the gaining popularity of gold also brings questions from customers about the different types of gold. "We often get questions about 24k gold and 18k gold; many believe a higher karat number means it's better for jewelry, but that's not always the case," said Edberg. "14k gold is ideal for body jewelry because its mix of gold and alloy makes it strong yet resistant to tarnishing."
Edberg adds that a real gold belly button ring is essentially non-allergenic, so it's a good choice for those with sensitivities to other metals.
White gold belly button rings have also been added to the product mix at BellyBling. White gold is considered real gold; the alloys that are mixed with metal are what give it a white tone. Edberg says their line of white gold belly rings has been one of their fastest-growing categories.
Because the value of real gold has increased over the past few years, the price of real gold jewelry has been increasing as well. Edberg says that for those customers that are looking for the style of real gold, gold plated belly button rings can be a good option. "Gold plated belly rings have a thin layer of real gold on top of a base metal like nickel or silver," said Edberg. "While the layer will gradually wear away, taking special care of gold plated belly rings can keep them looking great for a longer period of time."
The company plans to continue to expand its selection of gold navel rings, as well as other popular metals such as titanium belly button rings and has also recently expanded its warehouse space to accommodate the new inventory.
In addition, a blog has also been added to the BellyBling.net website as a way to communicate with customers about new styles, promotions and important information such as belly button ring sizing charts.
###
About BellyBling.net
BellyBling is an e-commerce merchant owned and operated in Urbana, IA under parent company Clickstop, Inc. Focused on offering trendy, stylish body jewelry, BellyBling strives to make customer service a top priority, with the very best selection, value prices, and extraordinary service to every customer. To view the full selection, visit http://www.BellyBling.net.