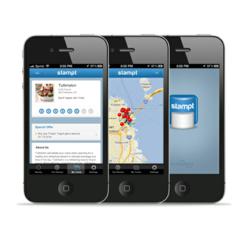 Our new location is smack-dab in the middle of San Diego.
San Diego, CA (PRWEB) August 29, 2012
August 1, 2012 marks the 6 year anniversary of Skybox Creative. Approximately 5 of those years were spent in an office on Camino Del Rio South, just south of the Mission Valley Mall. Now, just a little ways east on Camino Del Rio South, is the new location. Right off the 8 freeway, under the 805, they're positioned right in the heart of it all.
"Our new location is smack-dab in the middle of San Diego. If San Diego had a bulls eye, our building would be the red dot, that's how central we are, just about 10 minutes to anywhere in San Diego, our new location gives us the flexibility to visit our clients in a moments' time and vice versa", says Angelina Sereno, President. The new space has the perfect collaborative vibe, from the intersecting freeways to the spacious brainstorming conference area, this new location has their creative juices flowing.
Find the new office on Google Maps:
Skybox Creative
2878 Camino Del Rio S., Ste 101
San Diego, CA 92108
This newly released video (watch video) shows off the location on Google Maps as well as a few recent projects they've launched. It's a move announcement / demo reel. With all this increased efficiency, they've got projects to share!
One of the projects highlighted in the video shows the brand development behind the Save ME eco-friendly product line. These incredibly powerful rechargeable batteries are delivered and returned through a "vending machine", redbox style. Skybox created a brand identity that communicates clearly and non-verbally the concept behind the brand, from the color palette, to the font choice to the creative rechargeable batteries inside the 'm'.
Also showcased is the newly re-branded virtual loyalty stamp card app, Stampt. Skybox designed a realistic stamp icon and corresponding 'S' stamp system to bring this concept full circle. The simple and user-friendly mobile UI design makes it easy to search for participating vendors via list format or through the interactive map.
Visit the blog article to read more about each of the 6 projects featured in the video.
Branding goes far beyond just logo design. From company naming to tagline writing, logo design, stationery + business cards, print materials, packaging design, web design, mobile design + development and a thorough understanding of technology, Skybox Creative has a rock solid team of creative talent to take your brand to new heights.
For questions, please contact Angelina Sereno at angelina(at)skyboxcreative(dot)com or call 619-381-3825.