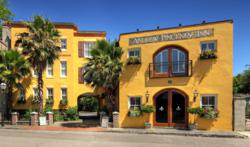 (PRWEB) August 29, 2012
rUNdead Charleston will take place this year on Saturday, October 27th in Charleston, SC. rUNdead is a 5k race where runners get flags and navigate through rugged trails and man-made obstacles throughout Charleston County Parks, including the new Old Towne Creek. Throughout the race, zombies will appear and try to take the runners' flags. Once a runner has lost all their flags, they become part of the zombie family. Runners that lose all of their flags can choose to join the zombies or they can finish the run but will not be eligible for any prizes. Prizes will be awarded for those runners that make it to the finish line with at least one flag. The gates open at 3:00pm but the race starts at 5:00pm. The awards ceremony will take place after the race at approximately 6:15pm. This event is a family-friendly race and, in order to participate, runners and zombies must be at least 14 years old. rUNdead offers plenty of fun things for all ages including live entertainment, music, costume contests, a kids' play area, food and beer.
rUNdead Charleston is made possible by the Lowcountry Food Bank, a nonprofit whose mission is to feed the poor and hungry in ten coastal counties in South Carolina by collecting food products and distributing through a grassroots network of over 320 member agencies that provide hunger-relief services throughout the ten coastal counties in South Carolina. Participants of rUNdead are asked to contribute by brining canned goods and other non-perishable items to the race.
Registration for rUNdead Charleston is $40 for advance registration by October 12th and $55 after October 12th until race day. Registration includes a rUNdead t-shirt, one beer token, a bib, chip timing, flag belt with three numbered flags that match the bib number. An upgrade to a performance dry-wicking shirt is available for an extra $10. Registration to be a Zombie is free but limited to 100 zombies. Zombies must provide their own clothing and it is suggested to wear old, tattered clothing. A rUNdead Zombie t-shirt is available for pre-order for $15. Zombies can show up to the race in full makeup or use the makeup and fake blood provided at the race to get in full costume.
Visitors to Charleston around Halloween will want to book a hotel early and register ahead for rUNdead. Try staying at a downtown Charleston hotel like the Andrew Pinckney Inn.
Various vendors will participate in the race and current sponsors include the Charleston City Paper, The Charleston County Park and Recreation Commission and Try Sports. For more information, visit http://www.rundead5k.com.