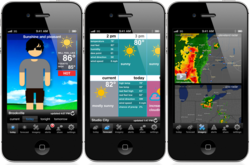 swackett X is our most advanced weather app to date...
Brookville, PA (PRWEB) August 30, 2012
Now available in the App Store: AGLogic is delighted to announce two new additions to the swackett® product line: swackett X and the Undergrad Edition.
swackett X: The Next Big Thing in Weather Apps
Available now, swackett X for iPhone is our most advanced weather app to date. Based on the wildly popular swackett® app, swackett X is re-built from the ground up to deliver our most requested Xtras:

Speed (our fastest weather app yet!)
Enhanced user-interface and navigation options
View and share peeps in any orientation (Facebook, Twitter, email)
Select animated peeps (animated rain, snow, frosted breath, and plus lots of extra surprises)
High-res weather photo backgrounds
NEW! All swackett screens work in any orientation!
Preferred Startup Tab (ability to select a default tab to always show at launch)
Longer radar animations: 3-hour radar loops (where available)
Completely Ad-Free
The Undergrad Edition: Too Cool for School!
The Undergrad Edition is something very special: our first fashion edition for swackett! Created by Hallie Elizabeth, this fashion conscience "peep pack" features a new generation of swackett peeps not only dressed appropriately for the weather, but in color, cuts and styles for today's classroom setting.
Want that cool look for school? Can't decide which of your stylish new outfits to wear to school today? Want to catch the eye of that special guy or girl in school? Check out this brand new edition, designed by student for students, to help you look your best while being prepared for the day's weather conditions!
The Undergrad Edition also includes fun facts about school life, tips for dressing for the classroom, and weather notes.
The Undergrad Edition features:
modern hairstyles (more than 50)
42 pairs of pants, jeans, shorts and sweatpants
32 different pairs of shoes
23 coats
15 gorgeous time-sensitive backgrounds
13 pairs of stylish sunglasses
10 jackets
9 sweaters
8 new hats
pom poms, berets, scarves, gloves, boots and many other accessories.
About swackett®
swackett® is a whole new way to look at the weather. We convert complex weather data to easily-understood, visual weather reports designed for people of every age. Our unique approach combines raw weather data (current conditions, radar, and detailed forecasts) with thoughtfully crafted people symbols (called "peeps") who always appear appropriately dressed for the weather.
If it happens to be cold outside, swackett peeps appear dressed in winter hats, coats and boots. A hot, sunny day? swackett peeps appear wearing shorts and sunglasses — and they even remember to bring along drinking water and sunblock. Rain? swackett® peeps appear with rain jackets and an umbrella. Rule of thumb: If the swackett peeps appeared dressed for inclement weather, you should be dressed for inclement weather too. This is a fun, fresh and truly useful weather report experience for people of any age.
swackett debuted in the Mac App Store on January 6th, 2011. Today more than 1.3 million unique users turn to swackett for their daily weather forecast.