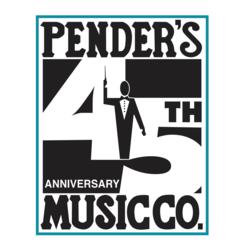 Denton, Texas (PRWEB) August 30, 2012
Pender's Music Co. is celebrating 45 years of serving the sheet music needs of our customers worldwide. Pender's Music Co. was originally a college store that provided art and music supplies to students on the campus of what was then known as North Texas State University (NTSU). Harold Gore, Texas band director and NTSU alumnus, dropped by that Denton, TX store in late May of 1967, to have a cup of coffee with the owner. Little did he know that he would end the day with an $8,500 bank loan and a new venture that would eventually become one of the largest sheet music providers in the country.
Earliest available records indicate Pender's College Store was originally opened by Perry (Pop) Pender in 1938. It filled the needs of college students, selling sheet music and art supplies. It also served breakfast and lunch daily from a grill and soda fountain. On that day in 1967, it was owned and operated by 72 year old Ed Myers, who was ready to sell the business and retire. Thus began Harold Gore's endeavor of turning a little college shop into the profitable growing concern of what today is Pender's Music Co.
Harold kept the Pender's name when he purchased the store, in order to use the established credit of the company, and it took a couple of unprofitable years before he determined that the best thing for him to do was to do what he knew best: band sheet music. With encouragement from band directors, he expanded the existing business. He rented some available space next door, and began stocking more and more sheet music, primarily for instrumentalists and school bands. The grill and soda fountain were shut down, and the name of the company was changed to Pender's Music Co. to reflect its new focus.
Part-time teaching positions allowed him to receive a pay check for the next three years, and all the while his wife Betty, remained at his side, learning the business first hand. She organized the business, creating systems that ensured success. By the end of the fifth year, the company showed a small profit. It was quickly invested back into the business through adding a choral sheet music department.
Harold and Betty's son, Richard Gore, manages the company today, and daughters Robbie and Reesa continue the legacy of innovation and service to the music community, which is the same today as it was in 1967:

Provide excellent customer service while being innovative
Stock a deep inventory of the latest sheet music publications and standards for in-store perusal
Exhibit at Educator Conferences with a large selection of titles available for immediate purchase
Maintain a knowledgeable, hard working, helpful staff
While Pender's Music Co. eventually moved from its University of North Texas location, its headquarters remain in close proximity to the talented faculty, staff and students from the school's College of Music. Many remain loyal customers as they progress in their careers throughout the music world. Additional locations in Oklahoma City and Dallas further the company's geographic footprint, while its reach has become global with orders received daily from all over the world.
Innovative service enhancements continue, with a comprehensive web site and social media initiatives that enhance the customer shopping experience. A new loyalty card program, initiated in January of this year, is yet another way that Pender's Music Co. hopes to keep and retain its customers for many years to come.
About Pender's Music Co:
Pender's Music Co., one of the nation's leading print music retailers, provides a wide range of sheet music for all occasions to individuals, schools, churches, and music makers worldwide.
Pender's Music Co. is one of the largest distributors of sheet music from virtually all print music publishers, both domestic and international. Large, on-hand inventory of band sheet music, choir sheet music, instrumental sheet music, piano sheet music and much more is available from three fully stocked stores in Denton (TX), Oklahoma City, and Dallas. Expert customer service is provided to individuals, schools and institutions, including special order processing, express shipping options, print-on-demand, and maintaining 30-day accounts for qualifying organizations. Online ordering is available 24/7 (penders.com).
Useful links:
UNT College of Music
Pender's Music Co. Loyalty Program