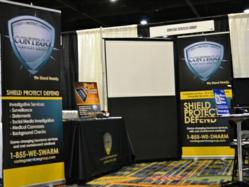 "The WCI Conference was an amazing oppurtunity to showcase what Contego Services Group has to offer to the industry. We feel very fortunate to have been apart of this year's event. -- Jena Silvestri, National Sales Director
Fort Lauderdale, FL (PRWEB) August 29, 2012
Contego Services Group, LLC is excited to announce its success at the 67th Annual Workers' Compensation Educational Conference and 24th Annual Safety & Health Conference. The conference took place the week of August 20th, 2012 and was the largest conference Contego Services Group, LLC has participated in to date. Contego's marketing and sales team had one of the most innovative and technologically advanced exhibits at this year's conference.
Contego came fully equipped with a surveillance drone that flew around its booth taking high definition video and pictures from two strategically placed lenses. The drone utilized at this year's conference was there to demonstrate the advanced technology Contego possesses in its surveillance tool box. Contego Investigative Services, LLC is currently researching a new surveillance tool, similar to its conference drone, which will bring revolutionary capabilities to the industry! Contego continually strives to be on the cutting-edge and deliver only the very best to its clients.
Contego's SWARM™ service model was also showcased. Known for its innovative approach to handling workers' compensation claims, Contego utilizes the Swift Working Assessment with Rapid Methodology (SWARM™) model on catastrophic claims to reduce the lifecycle and cost of claims. Videos demonstrating the effectiveness of the SWARM™ were on display at Contego's booth which caught the eye of many conference goers. Multiple attendees gathered at Contego's booth to inquire about the details of the SWARM™ and learn about Contego's methods for saving their client's money. Subrogation, loss control and safety, SIU, fraud investigation, and due diligence all play a role in the preliminary evaluation of a claim. Contego will quickly involve investigators and subrogation specialists if needed. Contego's innovative thinking and rapid response times all lead to one very important result: Contego can save time and money for their clients and can offer services not readily available in the marketplace all while maintaining a very high level of customer service.
"The WCI Conference was an amazing oppurtunity to showcase what Contego Services Group has to offer to the industry. We feel very fortunate to have been apart of this year's event and look forward to returning next year," said Jena Silvestri, Contego's National Sales Director.
Contego Services Group, LLC will be showcasing a major exhibit at the 21st Annual National Workers' Compensation and Disability Conference & Expo to be held at the Las Vegas Convention Center on November 7-8, 2012. Contego will be located at booth number 146 and will have multiple giveaways including an iPad, gift cards, and free copies of The Athletic Mindset: Three Tools for Success written by Contego's own President, Linda Webb. To learn more about Contego's newest surveillance tools and services contact Jena Silvestri, National Sales Director, at jsilvestri(at)contegogroup(dot)com.
Contego Services Group, LLC provides innovative insurance services and cost containment solutions which include investigative services, SIU, fraud, subrogation, loss control and safety, due diligence, and transportation and translation. For additional information on Contego Services Group please visit http://www.ContegoServicesGroup.com or contact Jessica Custer at 954-556-1616.
Media Contact:
Jessica Custer
954-556-1616
http://www.ContegoServicesGroup.com
JCuster(at)ContegoGroup(dot)com