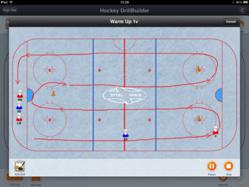 Save valuable ice time with Hockey DrillBuilder.
San Jose, CA (PRWEB) August 31, 2012
TotalCoach, LLC is pleased to announce an update to the Hockey DrillBuilder App available for iPad and iPhone on the App Store. "Now Hockey coaches everywhere can save valuable ice time by using Hockey DrillBuilder," stated Dean Tait, founder of TotalCoach. Coaches can use the DrillBuilder App Store or the web-based version on any platform at totalcoach.net.
Hockey DrillBuilder was developed in conjunction with secure cloud-based storage to ensure that coaches have access to their PlayBook at anytime, anywhere. TotalCoach offers a premium service for $99 per year, which allows a Coach to maintain a Team Roster and PlayBook. The Coach can use their own players in drills or plays so that the individual athlete knows exactly what they need to do to be successful. Practice Plans are built visually from all the drills stored within the Coach's DrillBank. A whole year of plans can be created and shared with players, parents and assistant coaches.
Coaches who do not have inspiration to create new practice drills can download drills for free on the DrillStore. The DrillStore is a free member-driven community of drills that is available to all coaches signed up at TotalCoach. Coaches are free to upload and download drills as well as provide ratings to ensure that everyone benefits from the collective wisdom.
About TotalCoach:
Founded in 2011, TotalCoach is focused on providing amateur sport coaches with the latest technology tools to make them more efficient and effective with their athletes. By providing a better coaching experience, TotalCoach promotes LTAD (Long-Term Athlete Development) and creates a life-long love of sport in young athletes. Staying active and participating in team sports plays a large part in a person's development and a healthy lifestyle.
Copyright (C) 2011-2012 TOTALCOACH, LLC. All Rights Reserved. Apple, the Apple logo, iPhone, and iPod are registered trademarks of Apple Inc. in the U.S. and/or other countries. Other trademarks and registered trademarks may be the property of their respective owners.