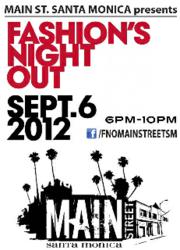 Santa Monica, CA (PRWEB) August 29, 2012
With over 35 businesses signed on, Main Street Santa Monica will kick off its Second Annual Fashion's Night Out (FNO) on September 6th. Guests will be encouraged to explore the street's local shops before ending the night with a red carpet after party hosted by Brick + Mortar (2435 Main St.).
This year, not only retails shops, but salons, restaurants, and home décor vendors will be participating in Fashion's Night Out. With extended store hours and exciting giveaways and special features, this night is going to be a truly spectacular night on the town. Highlights of the evening include a fashion show styling at formatt4u (2665 Main St.) in collaboration with Next Salon, a vintage trunk show and art exhibit at Clever (2323 Main St.) with food provided by AREAL, a styling contest at Bumblebee (2651 Main St.), a Working Girl style preview at Agabhumi the Best of Bali (2665 Main St.), and much more. Wherever your night may take you Main Street offers you the opportunity to also get ready in style with everything from fabulous hair to spectacular nails and makeup.
For every purchase at participating businesses, attendees will be eligible to enter for a grand prize Main Street shopping spree valued at over $500. Last years prize included gifts from Agabhumi the Best of Bali, Arm Candy, Betsy & Tracy, Buffalo Exchange, Cielo Espresso, Clever, The Closet, Compliments Fashions, Eyes on Main, Free People, Gioia, hip'tique, LF Stores, Mindfulnest, monkie, Natural High Lifestyle, Next Salon, Phukaw, Station 26, Ten Women, Uroborus, and Varga.
For more information on Main Street's celebration of Fashion's Night Out, you can visit the website at http://www.mainstreetsm.com/fashions-night-out-12/, become a fan on http://www.Facebook.com/FNOMainStreetSM or follow us on twitter @FNOMainStreetSM.
About Fashion's Night Out:
Fashion's Night Out (FNO) is an unprecedented global initiative originally created in 2009 to celebrate fashion, restore consumer confidence, and boost the industry's economy during the recession. On September 8, 2011, in response to overwhelming demand, Fashion's Night Out returned to New York City, Los Angeles and over 100 other cities nationwide to highlight fashion and support retail with exciting events that included designer appearances, celebrity guests, fashion shows and musical performances. In the United States, the program is a collaboration between American Vogue, the Council of Fashion Designers of America, NYC & Company, and the City of New York. For more information visit http://www.fashionsnightout.com, or join us on Facebook and Twitter (@fnonyc, #FNO).
About Main Street:
Main Street Santa Monica is an eclectic collection of restaurants, boutiques, cafes, and various services stretching for about a mile from Pico south to the Santa Monica City limit. It is NOT the Mall. Historic, and Going Green, the street offers numerous unique shopping and dining experiences. Main Street is also popular for the weekly Farmer's Market every Sunday at Heritage Square, the annual Summer SOULstice, and the annual Holiday event featuring The Shopping Cart Tree. For more information visit http://www.mainstreetsm.com.
Media Contact:
Kelley Coughlan, Melrose PR, Kelley(at)melrosepr(dot)com, 310-450-7960, [http://www.melrosepr.com