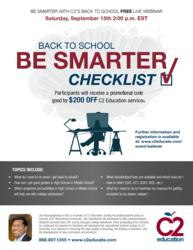 The new school year is a chance for a clean slate. C2's new webinar will help students start the new year off on the right foot.
Atlanta, Georgia (PRWEB) August 30, 2012
A new school year can be equally terrifying and thrilling. Certainly the challenges of returning to school give students a few qualms, but each new year also offers the chance to start over with a clean slate. To help students and their parents start the year off on the right foot, C2 Education will host a new live webinar, The Back to School Be Smarter Checklist, on Saturday, September 15 at 2 PM Eastern Standard Time.
This webinar, the latest in a monthly series, will be hosted by C2 Education co-founder Jim Narangajavana. During his undergraduate years at Harvard (A.B. Biochemical Sciences), Jim volunteered his weekends to help underprivileged students increase their SAT scores and gain college admission. After graduating from Harvard, he continued his passion for teaching and developed the educational systems unique to C2. Currently, he is involved in ensuring the high quality of teaching, the training of teachers, and the development of new curriculum and products. In the new webinar, Jim will answer questions such as:

What do I need to do to make sure I succeed when I get back to school?
How can I get good grades in high school or middle school?
Which programs and activities are available that will help me with college admissions?
What standardized tests are available and which ones do I need to take?
What do I need to do to maximize my chances for getting accepted to my dream college?
Parents and students have greatly enjoyed past webinars. In fact, one student recently commented, "C2's Top Five Successful High School Students Must Know was worth cutting short hanging out with my friends."
C2 Education's Back to School Be Smarter Checklist is a completely free event, but registration is required. Participants will also receive a promotional code good for $200 off C2 Education services. Further information and registration is available online at http://www.c2educate.com/event/webinar or at (888) 807 - 1355.
ABOUT C2 EDUCATION:
C2 Education is the nation's fastest growing network of educational support centers. The company's mission is to provide greater educational opportunities to all students. With more than 110 centers nationwide, C2 Education serves thousands of students each week, offering services ranging from SAT/ACT test preparation to subject tutoring to college admissions counseling. Further information is available at http://www.c2educate.com.