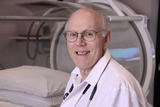 HBOT is a life and limb saving treatment that I am proud to administer to my patients.
Healdsburg, CA (PRWEB) August 30, 2012
Since its inception in 2010, Northern California Wound Care has exceeded the national healing rate for wound care treatments, consistently healing 95-97% of wound cases seen. Dr. Daniel Rose, medical director of HDH's wound care services, attributes his department's remarkable success rate to its state-of-the-art technology, as well as to the collaborative, forward-thinking team of HDH physicians, nurses, and technicians.
Dr. Rose has been committed to research throughout his career, and his past work has helped develop the nicotine patch and long-acting sunscreen. In a recent endeavor, Dr. Rose has invented a new technique for perforating skin grafts that is on its way to dramatically reducing the cost of preparing widely used skin substitutes. He is currently active in his research on the efficacy of HBOT in healing chronic wounds at Northern California Wound Care.
In his recently published article titled "HBOT comes to Healdsburg," Dr. Rose explains the exciting developments in HBOT research. He states, "HDH brought HBOT to the area in order to overcome the significant challenges physicians face in healing chronic wounds. Research has shown many indications for the efficacy of HBOT, including in the treatment of delayed radiation injury disease, for which no other treatment produces such positive results. HBOT is a life and limb saving treatment that I am proud to administer to my patients."
Approximately 15% of the patients seen in the clinic qualify for HBOT. These include patients with diabetic foot ulcers, chronic bone infection, and complications of radiation therapy. A pregnant patient with carbon monoxide poisoning was also treated. While inside the HBO chamber, the patient breathes 100% oxygen at twice the normal atmospheric pressure. The effect is an increase in oxygen concentration throughout the body, including to infected areas, radiation damaged tissue, skin flaps, and failing grafts. The highly concentrated oxygen levels in the blood significantly reduce the time it takes for wounds to heal, and can even bring positive results when other treatments prove ineffective. In making HBOT available at Northern California Wound Care, HDH provides a service to Sonoma County residents that has already brought relief to hundreds of people.
HDH serves as the first-line inpatient, outpatient, and emergency care facility for the 60,000 residents of Windsor, Healdsburg, Geyserville, Cloverdale and the surrounding areas of northern Sonoma County, California. With Centers of Excellence offering innovative services in orthopedics and rehabilitation, neurology, pulmonary medicine, occupational health, specialty stroke care, pediatrics, geriatrics, radiology, emergency/urgent care, and cardiology among many others, HDH excels at providing the same quality of comprehensive healthcare as any big hospital.