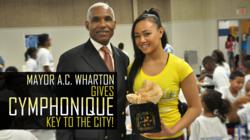 I want to continue to take more time to focus on helping less fortunate children and empowering young girls to have healthy self-esteem
Los Angeles, CA (PRWEB) August 28, 2012
Teen sensation Cymphonique Miller was awarded the Key to the City of Memphis, Tennessee at Urban Born's annual Back to School and Health Awareness Fair on Saturday August 25th by Memphis Mayor, A.C. Wharton. Mayor Wharton acknowledged her continued philanthropic efforts and commitments to helping inner city youth understand the importance of education and overcoming peer pressure. The 16 year old role model has been visiting schools throughout the city of Memphis for the last four years.
Even though the teen phenomenon has a busy schedule with shooting movies, touring as well as having recently completed 26 episodes of her hit TV show, How To Rock, she takes the time to fulfill her passion to help motivate the next generation. When asked what's next on her agenda, she stated, "I want to continue to take more time to focus on helping less fortunate children and empowering young girls to have healthy self-esteem." I have been so blessed in my life, I feel it is what I should do and it is really what I want to do," continues Miller. Cymphonique is a young woman who gets it, not only does she talk the talk, she walks the walk. Cymphonique is an honor student and you can find her in some of the most challenged communities reaching out and giving back to help the next generation.
Urban Born is a 501c3 whose mission is saving our children. The non-profit has been around for over 10 years and has helped save the lives of hundreds of children across America in some of the most challenged neighborhoods in our Nation.
For more information, go to http://www.UrbanBorn.org
For more information on Cymphonique go to http://www.cymphonique.com