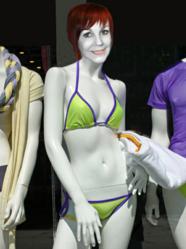 People love a good show and they love reality TV. Shocking or not, we're going to give them both.
Scottsdale, Arizona (PRWEB) August 29, 2012
Another sweltering hot summer in Scottsdale is mercifully ending soon. But despite record-breaking temperatures, modest and reserved permanent makeup artist Sally Hayes wasn't spotted once cooling off in a bathing suit, certainly not a bikini. This explains why the news is so surprising she's proposing to let it all hang out for the world see her as she really is in a soon to be released YouTube video.
"People love a good show and they love reality TV," says Hayes. "Shocking or not, we're going to give them both. But believe me when I say, my days of being comfortable naked are long behind me. This is as close as anyone is going to get."
Her popular YouTube Channel has been successful enough it is cleared to feature videos longer than 15 minutes. Thus, Hayes will be taking viewers inside a totally naked look at her work. There will be zero filters so everyone can see what really happens when a woman gets her eyebrows tattooed. There will be no editing. No covering up. Nothing but the truth in real time. The good, the bad, and the ugly if it occurs.
When applied properly by a skilled and experienced professional, permanent makeup offers many everyday but long-lasting benefits to women. It consistently saves time and effort with their makeup routine, while improving the appearance of facial features such as eyebrows, eyeliner, and lips. All this is to be designed to be undetectable to the naked eye in subtle support of the natural contours of the face. An added bonus is a woman enjoys freedom from fear of embarrassing smudges and smears, and having to constantly fix them.
The reality of Sally Hayes shows a permanent makeup expert who has successfully performed tens of thousands of cosmetic tattooing procedures since 1986. With this video of a live eyebrow tattoo, she trying to prove more than she can do her job without falling flat on her face. "I want women to know and see with their own eyes how permanent makeup can be done in a way which doesn't hurt, and doesn't take away the better part of a day away just to have done," says Hayes. "Yes, you don't have to go far to see a person showcasing body art. But there are still plenty of women of all ages who don't see themselves as a tattoo person. I want to show them the way I do permanent makeup is very different. It is not supposed to stand out like a tattoo. It's a natural-looking enhancement which can help every woman to look and feel more youthful, more beautiful, and more confident in who they are."
"Leave it to a proven leader such as Sally to take this courageous and creative approach to educating women about the power of permanent makeup," says longtime colleague and popular Las Vegas Plastic Surgeon, Julio L. Garcia, M.D. "But if she really does dare to go naked on YouTube, I'll just treat it like a typical consultation where I can recommend what cosmetic surgery procedures might be of interest to Sally in her continuous anti-aging efforts."
About Sally Hayes Permanent Makeup
Many of the nation's leading plastic surgeons and women across the United States agree. Sally Hayes is the premiere permanent makeup expert artist. She loves her work helping women find the easiest way to enhancing their appearance and managing their busy lives with makeup. At offices in Scottsdale, AZ, New York, NY, Las Vegas, NV, and Los Angeles, CA, she specializes in eyebrow tattoos, permanent eyeliner, permanent lip makeup, and cosmetic camouflage for post-surgery facelift scars and areolas.
For more information, visit http://www.permanentmakeup.com.
Contact Information:
Sally Hayes Permanent Makeup
10201 N. Scottsdale Road
# 20 (inside Salon Studios)
Scottsdale, AZ 85253
(480) 951-0539