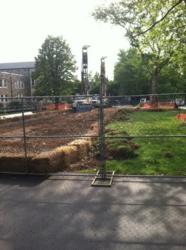 "This project is an important part of the renovation of the space for learning and will help move the school to a goal of 'net zero energy' when combined with future plans for solar installation." -Chris Schade, Chairman of the Board of Trustees
Princeton, NJ (PRWEB) August 29, 2012
When the students at Princeton Academy of the Sacred Heart return to campus in September, they will walk into a greener school. Since June, the all boys school for grades Junior Kindergarten through 8th grade has been conducting geothermal drilling to install geothermal wells which will provide its students with a more environmentally conscious learning environment. The drilling is part of a large renovation of the interior of the School, and is part of Princeton Academy's goal to build to LEED (Leadership in Energy and Environmental Design) standards. The installation of ground source heat pumps will significantly reduce the school's carbon footprint by providing an alternative source of energy to the school.
"From the beginning, Princeton Academy has kept stewardship of the environment in the forefront of its growth and development. We have two beehives on campus, a meadow habitat in large developed portions of our campus, a greenhouse that requires no man-made heating input, and a gym built into the ground to take advantage of passive geothermal heat transfer. We have plans to install solar panels and use LED lighting. Our current project of installing 40 geothermal wells will allow us to drastically cut our carbon footprint," remarked Headmaster Olen Kalkus.
Geothermal energy is still a little known, and largely untapped, renewable energy source. It is produced through a series of ground source "loops" where water is taken from the Earth and used to heat and cool a building through the simple principle of "heat transfer". An explanation of how geothermal drilling works is shown on the Morrison Geothermal website, the Pennsylvania company conducting the project at Princeton Academy. They explain that a geothermal system works much like a refrigerator: "In the winter, it moves heat from the earth to the school, making it warm…in the summer it moves heat from the school to the earth making it cool."
The transition to geothermal energy further realizes one of the Sacred Heart goals of "educating to social awareness which impels to action," and Princeton Academy's commitment to connecting their students to the environment through curriculum and physical surrounding. "This project is an important part of the renovation of the space for learning and will help move the school to a goal of 'net zero energy' when combined with future plans for solar installation," commented Chris Schade, Chairman of the Board of Trustees at Princeton Academy. "We have a chance to build a 21st century learning facility while providing a pedagogical platform for the boys."
Some important points to note about the Princeton Academy geothermal drilling:

The project involves the installation of a 40-well geothermal field;
The end goal is net zero energy through the use of geothermal, and ultimately, solar generation energies;
Results will protect the environment, reduce resource consumption, reuse resources, use recyclable resources, eliminate toxins, and apply life-cycle costing;
Reduced greenhouse gas emissions and other air pollutants will significantly reduce the school's carbon footprint;
Potential energy savings could reach 25% in electric, 50% in fuel.
Research shows that improvements to indoor air quality can amount to a 38.5% reduction in asthma, and a 51% reduction in colds and flu.
For more information about Princeton Academy or to arrange a visit to campus and learn more about geothermal energy and future plans for a more sustainable campus, please contact Maggie Kelly, at (609) 921-1879 or mkelly(at)princetonacademy(dot)org.
About Princeton Academy
Princeton Academy of the Sacred Heart is an independent school for boys in junior kindergarten through grade 8, in Princeton, New Jersey. Princeton Academy is a member of the National and International Network of Sacred Heart Schools. Princeton Academy provides a values-based education with a focus on social awareness, ethics, spirituality, and service. While academic rigor is emphasized at Princeton Academy, value is placed on teaching boys to grow into young gentlemen who love learning, enjoy life, and care for other people and the world around them.
###