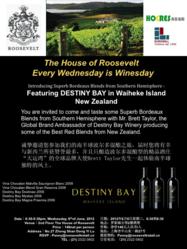 Chinese wine enthusiasts and collectors have been important customers who...appreciate the craftsmanship that produces these wines.
WAIHEKE ISLAND, New Zealand (PRWEB) August 29, 2012
Destiny Bay Vineyards announced today that The House of Roosevelt, the famously stylish food and wine destination at Shanghai's Bund 27, has selected Destiny Bay's Bordeaux-style, Cabernet blended wines for its exclusive wine cellar. A cultural and architectural landmark, it has long been fixture on the Bund and has had a role in the city's history since it was built in 1920.
At an elegant wine tasting event attended by enthusiasts and collectors and reported in Wine Luxe, China's luxury wine magazine, the discerning sommeliers of The House of Roosevelt were satisfied that Destiny Bay wines met their demanding requirements. Assistant sommelier Zane, speaking of Destiny Bay's 2006 Mystae, noted that, "The Mystae has great structure, complexity and elegance, which is a requirement of a great wine. It is well worth its price at around RMB 2000." (US$314.00) He adds that "we are looking forward to having Destiny Bay wines stocked in our cellar at the House of Roosevelt"
Finding all three Destiny Bay wines to be exceptional, Alvin Zhang of Eurowill Ltd., a noted importer and distributor of fine wine participated in a blind tasting that included Destiny Bay's Destinae. He stated that "Destinae is like an Old World wine, with complex aroma and soft tannins. It is succulent and full-bodied, with strong but elegant fruit hints, very typical of Bordeaux's Right Bank red blended wines." He added that "during the blind tasting, no one guessed it was a wine made in New Zealand." During the June tasting at the House of Roosevelt he said, "all three wines are exceptional."
"This is a notable achievement," remarked Levia Yu, Destiny Bay's Agent in Shanghai. "I am excited and proud to be part of the team marketing Destiny Bay wines in east China."
Brett Taylor, Destiny Bay's Global Director of Sales and Distribution noted that "Chinese wine enthusiasts and collectors have been important customers who show sophisticated appreciation of the craftsmanship that produces these wines. We are very pleased that The House of Roosevelt will be offering our wine to the equally cultured palates of its guests and club members."
About Destiny Bay Vineyards
Destiny Bay is a small, single vineyard, family-owned winery on Waiheke Island, New Zealand that specializes in estate grown and bottled blends of Cabernet Sauvignon, Merlot, Cabernet Franc, Malbec and Petit Verdot. Destiny Bay produces fewer than 2,200 cases per year of their three distinct blends, Magna Praemia, Mystae and Destinae. Destiny Bay is Waiheke Island's first fully certified Sustainable Winery & Vineyard (SWNZ).
Trademarks
Destiny Bay, the Comet, Magna Praemia, Mystae, Destinae and Dulce Suavi are registered trademarks of Destiny Bay Vineyards Ltd. Other names may be trademarks of their respective owners.