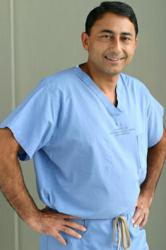 Dr. Khanna offers his expertise and years of dedication, in hopes that Americans everywhere may have some guidance when choosing a Lasik surgeon.
Los Angeles, Ca (PRWEB) August 30, 2012
According to USA Today, each year nearly 1.5 million Americans have Lasik, the most common corrective eye surgery. But you may ask yourself, what are the steps these individuals may take, in order to decipher a quality surgeon from a quack. Lasik centers are a dime a dozen, practically every radio station or freeway billboard is advertising an unbeatable price or some unimaginable offer we can't resist. Well, we can tell you first hand that a majority of these doctors will not deliver what they promise. But what should we look to, in order to gauge the quality of a surgeon? Is it his or her board certification, graduation from a prestigious school, numerous awards and certificates, or online testimonials? What is it that will sway us in one direction or another? Finally, we have sincere, unbiased, guidance. Dr. Rajesh Khanna has been a practicing ophthalmologist, and corneal surgeon, for over 22 years and has helped thousands of patients achieve quality vision. He has offered his expertise and years of dedication, in hopes that Americans everywhere may have some guidance and direction when choosing a surgeon.
Here are the seven essential points to consider when selecting a Lasik eye surgeon or physician for any procedure.
The first recommended tip is, Board Certification. The surgeon should be board certified by the American Medical Association. This ensures that he or she is licensed to practice medicine and has passed the necessary exams to become a practicing physician within the United States.
Step number two is to find a Specialist in the surgery you need. Sounds simple right? By this we mean, don't go to doctor that specializes in pterygium, if you are looking to have Lasik surgery. Be sure to do your research extensively. For example, visit several doctors before you decipher which one is the best fit for you. Ideally this individual should have performed thousands of procedures before yours, and he or she should have the clout to prove it.
Step number three, Good testimonials. When selecting a doctor you should be able to view hundreds, if not thousands of testimonials from patients just like you that have undergone the same exact procedure. With a quality surgeon you should even be able to meet existing patients and ask questions. At the Khanna Institute we even suggest watching the Lasik procedure, live and in person, before undergoing it yourself.
Tip number four, your Physicians hands should not shake. This may come as a surprise to many. While most people would not think of asking this question, hand stability is of the utmost importance when selecting an eye surgeon. Think about it, when your eye is being operating on, the surgeon must have complete control because even the slightest uncalculated maneuver or mistake can cause vision deterioration or even blindness.
Step number five, the physician is not on drugs. The surgeon should be in good health. This includes not taking any sort of medication that may interfere with the his or her performance during surgery, psychologically, or influence their medicinal practices in any way.
Step number six, Good bedside manners. Patients should look for a surgeon that is polite as well as experienced. A good surgeon should be able to put their patients mind at ease, have good communication skills, and be able to comfort and reassure the patient in times of need. Additionally, the surgeon should be thorough in his examinations and spend time answering any and all questions.
Step number seven, Availability for care before and after the surgical procedure. A great surgeon will spend time administering several tests and exams before the surgery. The surgeon should schedule one, if not more pre-op appointments before surgery, in order to ensure that the patient is completely ready for surgery. They will monitor the patient, check previous medical records, and may even request a physical examination before performing surgery. Additionally, after the procedure, the doctor should do regular follow up exams and monitor the patient over a lengthy period of time.
Following these steps will give patients a helpful guide and allow them to feel confident when selecting a surgeon.
ABOUT RAJESH KHANNA:
Dr. Rajesh Khanna is an internationally recognized LASIK and refractive vision care specialist. He graduated among the top of his class in medical school and is a member of the UCLA faculty. Utilizing his skills to instruct a new generation of eye surgeons on the safest and most effective techniques and procedures, he pioneered many of today's techniques in LASIK and refractive surgery. Khanna invented a variety of instruments to aid in surgeries and speaks at a myriad of national and international professional venues each year. He participates in refractive surgery conferences and wet labs worldwide. Featured extensively in print and broadcast media, he's received prestigious awards and honors from the World Health Organization. He's a member of the American Medical Association, the prestigious American Academy of Ophthalmology and the American Society of Cataract and Refractive Surgery, and certified by the American Board of Ophthalmology.