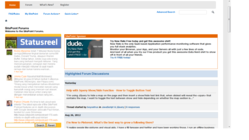 Denver, CO (PRWEB) August 29, 2012
Forum Boards are great venue for online communities who share the same interests and passion to discuss ideas and exchange information. This is where people all over the world discuss their thoughts about anything under the sun. Forum boards are visited by number of people because it archives discussions from the past. Forum boards are accessed by a very various and vast online users. Because of this, one topic will receive different opinions from these audiences online. As such, a huge amount of information is being saved on a specific topic. This is one of the reasons why online users visit forum boards again and again.
Statusreel has innovated a Facebook Status widget that can be embedded on Forum Board Sites. Facebook is being used by millions of people from around the world. Users have been using Facebook in many different ways. Facebook is being used for personal reasons, for online selling, to promote advocacies of online communities and so on. Facebook users also update their status in Facebook to share to their friends about anything under the sun. This has been the common ground of Facebook and Forum Boards.
Statusreel provides a real time feed of Facebook Statuses from all over the world. On each user's Facebook account, they only see Statuses for Facebook from their friends only. With statusreel, there is no limit as to the visibility of face book status.
Being able to integrate this status on facebook in forum boards gives gigantic information to forum site visitors. Facebook status feed provided by Statusreel can be filtered based on the theme of a Forum Site. If a specific forum talks about photography, Forum Moderator can filter Facebook Status feed by typing in photography on the search box. Then, Statusreel will only provide Facebook Status feed about photography only, real time!
Forum moderators can also use this Facebook Status widget to know the most talked about topic in Facebook. Moderators can start a discussion about it, and survey shows that such technique increased traffic to Forum sites.
Businesses had conquered online marketing as well. These businesses have their own forum boards to connect with their clients and customers. Through forum boards, entrepreneurs were able to provide customer assistance, address queries online and provide solutions to specific problems. By installing a Facebook Status widget provided by Statusreel on their Forum site, they can filter Facebook statuses by their Brand Name. As such, they can also view how their product is doing in the market. Nowadays, people take their review on specific products and services on their Facebook Status. The best thing about the Status feed from Statusreel is that it is real time. Should there be complaints about their products, entrepreneurs can contact their customers right away so that they can provide solutions and build trust and confidence with their customers.
About Statusreel
Statusreel.com is an application designed to provide users a real time feed of Facebook Statuses online. Users have the option to view specific theme of status, from funny status to emo status and all the other 19 categories of status on facebook. Statusreel real time feed of status maybe embedded to a wedbsite – a status box or widget, absolutely free!