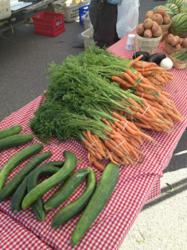 Farmington, N.M. (PRWEB) August 29, 2012
From the first whiff of roasting Animas River Chiles in August to the sounds of the Northern Navajo Nation Fair pow wow in October, there is a basket full of entertaining events for travelers. Families searching for hay rides and pumpkin patches and foodies in search of the best local fruits, vegetables, wines and beers find them near Farmington, the hub of the Four Corners region.
The Farmers Growers Market in Farmington is held on Main Street in front of Gateway Park Museum and Visitor Center on Tuesdays 4:30 to 6 p.m. and Saturdays from 8 a.m. until noon. Along with fresh fruits and vegetables, shoppers find newly baked breads and cinnamon rolls, homemade tortilla chips, tamales, salsas of many varieties, honey and handmade soaps.
A few miles east of Farmington at Sutherland Farms, near the Aztec Ruins National Monument, harvesting and roasting of Animas River Chiles has just begun. Sutherland is a family farm with special events and attractions for families with children. During the harvest season, they have a café offering breakfast and a "farm fresh" lunch. On September 15-16 Sutherlands Farms will pair with The Wines of San Juan Vineyard for a Green Chile Festival with wine tasting to face painting and train rides for the little ones. On weekends in October Sutherland hosts a pumpkin festival geared for children looking for the best pumpkin for Halloween.
Wines of San Juan is a well-regarded, family-owned boutique winery on the San Juan River near Blanco. Along with wine tasting, this New Mexico vineyard offers free music from popular regional groups on Sundays and larger seasonal festivals. Those looking for a chance to stomp grapes during the harvest can give it a try at Wines of San Juan on the weekend of September 29-30. The most enthusiastic grape stompers come in costume.
Beer lovers in Farmington favor Three River's Brewery in one of the city's historic buildings in downtown Farmington. Three Rivers brews many varieties of ale and lager and also serves homemade sodas. Popular menu items are Bratwurst with green chile, fresh dough pizza and produce from local farms.
The Northern Navajo Nation Fair, October 3-7, held in Shiprock, 25 miles west of Farmington, is a 101 year old harvest festival that highlights traditional Navajo culture. Along with exhibits of livestock and farm produce there are wild horse races, gourd and fancy jingle dances and the Miss NavajoTeen Contest. The contestants dress in colorful traditional clothes and display their knowledge of Navajo customs and language.
There is more information about Fall events at The Farmington Convention & Visitors Bureau, i a tourism marketing organization offering travelers information about attractions in Farmington and throughout the Four Corners. The Bureau has a free, colorful destination guide available online or by mail by calling 1- 800-448-1240.