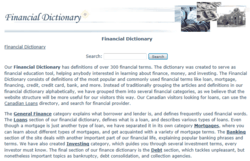 A free tool like the FinancialDictionary.net quiz offers an unassuming way to expand one's financial knowledge and can help people to get their finances under control
Toronto (PRWEB) August 29, 2012
Art Branch, Inc., the parent company of FinancialDictionary.net announced today the publication of a new financial quiz (http://www.financialdictionary.net/financial-quiz.php), targeted at people who are interested in gaining financial knowledge.
The quiz was developed using financial definitions from FinancialDictionary.net. The idea for the quiz came following the great success of a financial quiz targeted at Canadian audience and published by Art Branch earlier this year. The new quiz is more robust and generic and targets worldwide audience.
Once the visitors have answered all questions, they get a score card with links to articles offering relevant information on questions that were answered incorrectly. The 10-question quiz is based on a pool of over 500 questions and can be taken many times.
"Most developed nations are wallowing in both personal and sovereign debt, while the level of financial literacy of the average person is poor at best. A free tool like the FinancialDictionary.net quiz offers an unassuming way to expand one's financial knowledge and can help people to get their finances under control," said Peter Todorov, President of Art Branch, Inc.
Many people accumulate excessive debt and face financial difficulties because of poor financial habits and money management skills. The financial quiz offers a game-like environment where people can learn the financial basics and have fun at the same time. FinancialDictionary.net also offers hundreds of useful articles to improve one's financial capability. Financial education helps people to avoid mismanaging credit accounts and mortgage payments. It is a way to avoid catastrophic and costly financial mistakes. Financial literacy encourages responsibility and helps households to build their financial assets. Consumers should have knowledge of different financial products and instruments and good understanding of their financial situation and needs. Financially literate consumers are able to make wise career choices, are in charge of their financial security post-retirement, and apply different financial concepts in everyday life.
About FinancialDictionary.net: FinancialDictionary.net is an informational resource created by Art Branch, Inc., focused on increasing knowledge on many important financial topics.
About Art Branch: Art Branch, Inc., located in Toronto, Ontario, is the parent company of FinancialDictionary.net and has produced many consumer oriented websites targeting Canadian audience. The goal of Art Branch is to provide visitors to company sites with free, practical guides, helping consumers to make educated choices.