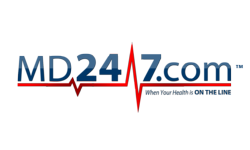 MD247 reviews telemedicine for politicians.
(PRWEB) August 29, 2012
MD247 launched an "open invitation" policy regarding its telemedicine operations, allowing local and national political delegates an all access pass to information regarding the telemedicine provider. The MD247 invitation to local and national political delegates was issued in response to an evolving customer care program, which initially was modified to provide consumers a behind the scenes view of customer care. The addition of an open door policy for the political delegates is meant to provide delegates an all access behind the scenes pass that does not require that facts be checked regarding telemedicine using Wikipedia or scam informer websites.
Political delegates opting to contact MD247 to learn more about the MD247 telemedicine program will have the opportunity to learn more about the history telemedicine, where the field of telemedicine is going in the future and how the field will change the medical frontier for patients. In addition to learning about telemedicine, delegates will be walked through subjects like the "talk to a nurse" hotline for symptom checking and the discounted pharmaceutical program card. MD247 management will also address the manner in which customer care issues can be addressed.
MD247 encourages all political delegates with questions to please make initial contact via email at mgermann(at)md247(dot)com.
MD247 advised that political delegates interested in learning more about the field of telemedicine are encouraged to first visit the MD247 telemedicine website at http://www.md247.com. The site covers the history of telemedicine, current applications of telemedicine and potential future advances using telemedicine.
Largo Florida based MD247.COM (MD247; MD/247; MD 247; M.D.247; MD-247) provides an affordable telemedicine supplement to existing healthcare services. MD247.COM telemedicine program members have unlimited telephone access to a nationwide medical support team, all with just a single phone call to the MD247.COM telemedicine Talk to a Doctor/Talk to a Nurse Hotline. MD247.COM has a virtual platoon of registered nurses; board certified physicians and a support staff available to members for all non-emergency situations. More information about MD247.COM is available online at http://www.md247.com.