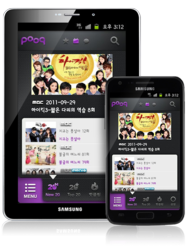 Seoul, Korea (PRWEB) August 30, 2012
Solution Box (http://www.solbox.com), a leading CDN and cloud software provider, announced that it has launched 'SB HLS (SB HTTP Live Streaming)' for enabling the Android environment to support the Apple's HTTP Live Streaming.
'SB HLS' allows Android device users to enjoy, without limitations, the contents created with the HTTP Live Streaming Protocol which has not been supported in Android 2.3 and lower versions recently.
Android 3.0 or higher versions support HTTP Live Streaming, but Android 2.3 and lower versions which account for about 90% of all the Android devices around the world only support the RTSP (Real Time Streaming Protocol). As the HTTP protocol based streaming is becoming the norm recently, HTTP Live Streaming services are increasing. As a result, the users of Android 2.3 and lower devices are experiencing such problems as broken streaming and low image quality.
To solve this problem, Solution Box prevented firewall blocking and minimized packet loss in case of protocol conversion. Also Solution Box minimized compatibility issues between different devices by interworking with the Media Framework that is included in Android by default. Furthermore, Solution Box made stable streaming possible even in low-specification devices by lowering CPU usage through optimized hardware decoding support so that Android devices can receive the same high definition and high quality streaming services as iOS devices.
The pooq (http://www.pooq.co.kr), N-screen service by the Contents Alliance Platform (CAP), has adapted SB HLS to enable HTTP live streaming of the CAP's contents on the Android devices. The CAP, a newly organized consortium, consists of the domestic major broadcasting channels like KBS, MBC, SBS and EBS to provide the TV broadcasting contents to any kinds of mobile devices in Korea. The pooq and Solution Box have been working closely over almost one year to provide the successful beta service, and the pooq will open the fee-based service with new features, and functionality for the Android users this September. The pooq service will be the good case to prove the excellence and stability of SB HLS.
Also 'SB HLS' has been receiving constant attention from the overseas market as well as domestically. Thus, the demand for 'SB HLS' is expected to grow overseas market to meet the needs of the content service providers to solve the HTTP live streaming on the Androide devices.
"As video content continues to be consumed more often, for longer periods of time, at higher quality and on more devices, there is an increasing demand for video content delivery services free of device types or network environment," said Chun-Il Kim, Director of Solution Box. "Solution Box continues to adapt and grow to meet the changing requirement of the market. With a growing base of content owners or content service providers, Solution Box will continue to make progressive achievement in performance and availability of solutions specialized in CDN and become the global CDN leading company in the world's most challenging market."