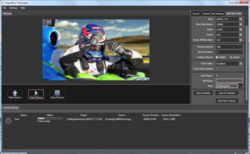 Clearwater, Florida (PRWEB) August 29, 2012
Vela Research announced a series of significant features and functionality enhancements to the ArgoNavis Encoding and Transcoding Solutions. These enhancements are designed to further cover the broad range of features and capabilities required in the end-to-end workflows within the operations of broadcasters, call letter stations, cable operators, IPTV providers, content creation, content distribution and news gathering organizations.
The ArgoNavis Encoder is a real-time encoding solution that supports HD encoding of 1920x1080i and 1280x720p resolutions at NTSC and PAL frame rates, and 1920x1080P encoding at Cinema/ BlueRay frame rates. It also supports SD encoding in both NTSC and PAL. The ArgoNavis Encoder supports a full range of Closed Captioning capabilities, as well as 8 channels of audio, video scaling and cropping, frame accurate encoding with BVW VTR/device control, proxy encoding and scheduling.
The ArgoNavis Transcoder is designed to empower operators and streamline workflow in a file-based, multi-format, multi-screen, multi-provider and multi-audience environment. It provides faster than real-time transcoding across a wide range of formats and supports workflow automation with support for batch processing, watch folders and operator-defined automated FTP transfers.
The ArgoNavis Transcoding solution can be purchased in a compact, stand-alone 1.5 RU system. The Transcoder's capabilities can also be cost-effectively added-on to a new system, or an existing ArgoNavis Encoding system already deployed within your operations through an optional module.
Kevin Grubbs, Vela's Director of Engineering said, "with these developments, our Encoder & Transcoder Solutions and All-in-One Solution offer operators a broad set of capabilities including:

Full set of formats, resolutions, bit-rates, frame-rates needed
Comprehensive Closed Captioning support
Automatic proxy file creation – without any post-processing or redundancy
CableLabs compatibility - PID, PAT, PMT, encode parameters with no post-processing
Upscaling, downscaling and video cropping
Frame accuracy and machine control
Extensive scheduling features for encodes from live feeds, events or timed sources"
The ArgoNavis Encoding and Transcoding solutions seamlessly integrate into existing workflow environments – and eliminate the time, expense, redundancy and disruption caused by having to deploy non-matching equipment . Users interested in further information or in test-driving the ArgoNavis solution/s are invited to contact Kevin McDowell at 954-558-2063 (kmcdowell(at)vela(dot)com).
About Vela: Vela® is an Emmy® award winning company offering a complete range of high quality SD and HD products for the broadcast, cable, post production, enterprise and education markets. Vela designs and manufactures system and board level solutions used in a variety of media applications. The board level products are also integrated into advanced systems and video servers offered through Vela and its partners. Over the past 18 years, Vela has earned recognition by virtue of the trouble-free, high-performance and cost-effective solutions in use in demanding customer environments worldwide. Vela is based in Clearwater, Fla., USA, and is on the web at http://www.vela.com.