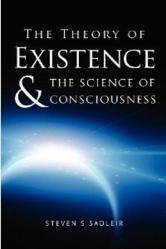 "Perhaps you've heard that the old mantra was 'Question Authority' and the new one is 'Question Reality'. This book will fill you in on the transition, dabbling in history, science, sociology and philosophy to help tie it all together."
Los Angeles, CA (PRWEB) August 30, 2012
Best-selling author and Kundalini Master Steven S. Sadleir has just released his seventh book with Amazon called The Theory of Existence & the Science of Consciousness. This book provides answers some of the great questions in science, including: What existed prior to existence? Why does existence exist? What caused the Big Bang? Who or what created creation? What underlies sub-atomic particles and matter? How is gravity created? What organizes all matter? What guides evolution? What animates our own existence? And what is the purpose of our existence?
Steven draws upon the wisdom of the ages as well as a transcendental awareness to bridge science and spirituality. His thesis draws together all the major sciences into one theory of everything covering quantum physics, molecular biology, evolution, psychology, sociology and history and delves into the nature of consciousness from both a Western and Eastern perspective. The book ends with answers to how one may attain enlightenment, find fulfillment and create world peace. One reviewer sums the book up: "Perhaps you've heard that the old mantra was 'Question Authority' and the new one is 'Question Reality'. This book will fill you in on the transition, dabbling in history, science, sociology and philosophy to help tie it all together."
Steven S. Sadleir is director of the Self Awareness Institute, a Kundalini Master, host of Enlightenment Radio and appears in the new spiritual movie 3 Magic Words. Some of his other books include: Self-Realization, Money & Power, the Secret History, Christ Enlightened, the Lost Teachings of Jesus Unveiled (which is being made into a movie), The Awakening, an Evolutionary Leap in Human Consciousness and the best-selling Looking for God, a Seeker's Guide to Religious and Spiritual Groups of the World.
The chapter headings include: How we perceive, Introducing Existence, Absolute Space, Life Force Energy, The Laws of Magnetism, A Physical Transformation, Self Organization of Life, The Evolution of Consciousness, The Evolution of Civilization, The Human Brain, The Eastern Perspective of Consciousness, The Western Perspective of Consciousness and World Peace. Steven will be presenting his book and findings at the Creative Field Conference in Loveland, Colorado, September 13-16, and is being interviewed on radio shows over the coming months.
For more information call Kim Mason at 949-355-3249 or go to http://www.SelfAwareness.com
The Theory of Existence & the Science of Consciousness
Steven S. Sadleir
ISBN 978-1476221319
Paperback, 204 pages, $12.95
Published & Distributed by Amazon