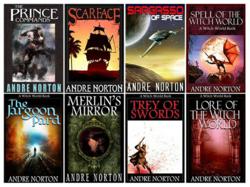 "We are excited to see a new generation of readers, Science Fiction and Fantasy fans being able to enjoy Norton's timeless tales and to learn about her life's work"
Los Angeles, CA (PRWEB) August 29, 2012
Premier Digital Publishing is pleased to announce that the documentary "Andre Norton - The Grande Dame of Science Fiction and Fantasy" will be screened at DragonCon, the largest Science Fiction and Fantasy convention in the world, in Atlanta, GA on August 31, 2012. Andre Norton, who would have celebrated her 100th birthday this past February 17th, has published over 130 novels and co-authored over 180 others, that have been translated into 67 languages. Norton's success helped open the door to other talented female Science Fiction and Fantasy writers and create a more inclusive platform for women authors.
Born in Cleveland, Ohio in 1912, as Alice Mary Norton, Andre published her first novel at the age of 22, The Prince Commands, under the name Andre Norton, which she changed legally. From then onwards, Andre wrote and published stories while working in the Cleveland Library system, including the Nottingham Branch Library, and did so for 18 years. Through the course of 70 years of writing, Andre published over 310 novels that include collaborations, stand alone and multiple series titles, as well as poems, children's stories and short stories.
Ms. Norton has been heralded as "The grande dame of science fiction," by Life magazine, "A superb storyteller with a narrative pace all her own," by The New York Times, and "Andre Norton is a superb storyteller," by the Chicago Tribune.
"There's something beyond skillful plots and incredibly imaginative settings. Something intangible that fuses her writing into the pillars and archways of your soul. The Lady, as her fans call her, reaches the hearts of people like no one else," commented the Andre Norton Estate. "Her style is clean and simple. She doesn't digress into an examination of minutiae, of either exterior or interior worlds. With graceful economy she hands the reader the very hearts of her characters, and cleanly etches her settings - like an artist who can suggest the whole shape of an object by the thickness of the line with which she draws. The results are lean, rich stories that move."
The documentary film, "Andre Norton - The Grande Dame of Science Fiction and Fantasy", will look at the closely guarded private life of Alice Mary Norton, who changed her first name to Andre, to be able to publish in the male-dominated Science Fiction/Fantasy genre. The film is a tribute in which fellow authors and friends share their remembrances of Norton who passed away in 2005, at the age of 93. A large portion of the proceeds from this project will be used to create a legal defense fund in an effort to protect Andre Norton's works for future generations to enjoy.
"Combining both a look into the little known personal life that Andre Norton held so privately and that of her professional life that made such a dynamic impact was the focus when I was first asked to do this project," commented Scott C. Brown of Pushing The Pen. "Even today, Sue Stewart, the heir to Andre's estate, continues to fight a legal battle in an effort to bring Andre's massive volume of works back to print, along with expanding the film base that has been adapted from her works. Anyone familiar with her material will recognize a constant onslaught of ideas that Andre first came up with being used in the film industry."
Already over 30 of Andre Norton titles are available as eBooks from Premier Digital Publishing, including titles from the beloved Witch World and Magic series, for Amazon Kindle, Barnes & Noble Nook, Apple iBooks, Kobo Books, Google Play, and Sony Reader Store.
"We are honored to publish Andre Norton's timeless titles as eBooks, including the Witch World and Magic series," said Thomas Ellsworth, CEO and Chairman of Premier Digital Publishing. "We are excited to see a new generation of readers, Science Fiction and Fantasy fans being able to enjoy Norton's timeless tales and to learn about her life's work".
Andre Norton's eBooks are available at:
http://www.premierdigitalpublishing.com/Titles/authors/andre-norton/
About the Author:
Andre Norton, considered the Grand Dame of Science Fiction and Fantasy, has written dozens of award-winning and influential coming-of-age novels, short stories and poems. Norton was the first woman to be awarded the Gandalf Grand Master Award from the World Science Fiction Society. Norton is considered to be the preeminent female Fantasy and Science Fiction author that helped break down gender barriers in the Science Fiction/Fantasy community and created an inclusive space for female fans and writers. Norton is known for her prodigious body of work including the series: Witch World, Solar Queen, Timetraders, Beast Master, Crosstime and Janus, as well as many stand alone novels and poems.
Web: http://andrenorton.com/
Like: http://www.facebook.com/pages/Andre-A-Norton/129522073726079
Follow: https://twitter.com/theandrenorton
About Premier Digital Publishing:
Premier Digital Publishing is a leading independent digital publisher and innovator in eBooks, enhanced eBooks and interactive content. Led by a team of digital media pioneers, the company ranks among the top publishers of quality eBook entertainment to the industry's leading tablet and eReader manufacturers and eBook retailers. The company is based in Los Angeles with offices in Toronto and New York.
Web: http://www.premierdigitalpublishing.com
Like: http://www.facebook.com/premier.digital.publishing
Follow: http://www.twitter.com/PDigitalPub
About Pushing The Pen
Pushing The Pen is a boutique format production & writing company owned by Scott C. Brown. With a long history in the film industry, Scott brings both his and his teams writing and production skills to specialty projects for a variety of clients. Located in Orange County, CA. Pushing The Pen currently has a series of projects in development and production through an array of medias, including film, TV, web and print, including the documentary 'Andre Norton: The Grand Dame of Science Fiction & Fantasy' which is scheduled for release in 2012.
Web: http://www.PushingThePen.com
Follow: http://www.twitter.com/PushingThePen